J Crew's Drexler seen as savvy in guaranteed deal
Nov 23- He's a fixer-upper, a turnaround king and a true connoisseur of the finely-knit Italian cashmere sweater.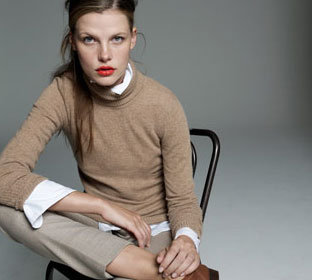 J Crew's cashmere collection
Millard Drexler, head of J Crew and apparel retail darling, has been on the receiving end of many accolades in his career, mostly for his knack for fashion. Industry watchers now say a surprise announcement to sell the upscale clothing chain to private equity, even as sales slump, may be his latest coup.
J Crew Group Inc shares shot up 16 percent after the seller of women's and men's apparel announced a $43.50 per share deal worth $2.86 billion with TPG Group and Leonard Green & Partners LP.
Tuesday's share spike is a vote of confidence for Drexler and the brand he has overhauled, as well as a lucrative one for the retail veteran who owns 5 percent of shares.
Recently, Drexler has found himself in the unfamiliar position of defending J Crew's performance and expressed disappointment on Tuesday over third-quarter results and a holiday outlook.
Shoppers rejected recently increased prices and a palette of earth tones, while fashion touches such as ruffles showed up at rivals such as Banana Republic to AnnTaylor causing a glut of inventory J Crew now has to discount to move.
Those promotions will weigh down results for a company that prides itself on selling full price due to its hard-to-find offerings that even U.S. First Lady Michelle Obama wears.
So the premium offered by private equity comes as a relief to shareholders, even as Drexler escapes from scrutiny.
The 66-year-old executive, known for his manic energy and attention to detail, is more comfortable discussing fabric, color and the perfect cut of a trouser with his fellow merchants than discussing short-term results with Wall Street.
"He's more the merchandiser. He wants to drill down on floorsets ... and execute and not have to worry if something misses then the stock goes down the tubes," said Patty Edwards, chief investment officer of Trutina Financial. "He has got the eye, he has got the feel. He just gets apparel."
Drexler cut his teeth as a buyer for Bloomingdales. He is credited with turning around AnnTaylor Stores Corp (ANN.N), before taking over at Gap Inc (GPS.N).
With Drexler in charge throughout the 1990s, Gap became the go-to store for a new relaxed American style of khakis and T-shirts. But he was fired from the global retailer in 2002 during a slump in sales that lasted years after his departure.
In 2003, he took the top spot at J Crew, hired by TPG which had owned the company since 1997. TPG took the company public in 2006.
At the helm of a privately-held J Crew, Drexler is expected to stick to some riskier bets, including his money-losing pet project, the small chain Madewell selling more downtown looks.
"It does take off some of the pressure of being scrutinized by analysts and reporters and the sell-side," said Needham & Co analyst Christine Chen, who called Madewell a "long-term home run."
A GOOD DEAL?

While Drexler's talent lies in identifying and catering to the fashion zeitgeist -- whether relaxed at Gap or one-of-a-kind "must-have" offerings at J Crew -- the deal with private equity is also on the money, analysts say.
While some on Wall Street grumbled the price may appear a bit light, they noted that a long solicitation period until January 15 could produce a higher bid.
"The price does seem a little bit low ... the stock's traded above $50 just in April," said Edwards. "I think the price could go higher ... We are not talking about a high multiple and we are talking about a premium company with amazing growth prospects."
But even if the price stands, the headwinds facing J Crew -- from erratic consumer spending and retail competition to excessive inventory cleared out at discount -- are such that investors should be relieved, many said.
"You're getting certainty of value with a possibility of a higher price," noted Wall Street Strategies' Brian Sozzi.
Given that investors may have looked ahead to two quarters of disappointing results, Drexler managed to get "under the umbrella of the guys he knows well (TPG) and get the premium and get out of the public eyes before 2011," he said.
Trutina Financial's Edwards said she sold her J Crew shares at $43.84, despite being able to conceive a valuation of or above $50, the company's 52-week high.
"Don't look a gift horse in the mouth," Edwards said, citing cost pressures facing the apparel industry among other challenges.
After the deal was announced, at least eight different law firms suggested the price was too low and accused J Crew of potentially breaching its fiduciary duty to shareholders.
Standard & Poor's, meanwhile, lowered its corporate credit rating on J Crew to BB- from BB+ due to added debt.
But analysts said such lawsuits are par for the course and added that they'd heard no grumbling from investors.
"I guess it was sudden, but I don't consider it unfair or unethical," said Brean Murray Carret's Eric Beder.
Shareholders have seen J Crew unable to break out of the $30 to $36 per share range throughout the fall, so Tuesday's share jump was an unexpected surprise.
"You can argue you have months of tough comparisons (ahead) to weigh down the value of the stock. I'm not sure investors would see this pricing for awhile," said Beder.

(Reporting by Alexandria Sage; editing by Andre Grenon)
© Thomson Reuters 2023 All rights reserved.