J.C. Penney raises cash, unveils new shops
J.C. Penney Co Inc said it raised $248 million by selling part of its stake in a Simon Property Group Inc unit, the first step toward its goal of shedding non-core assets.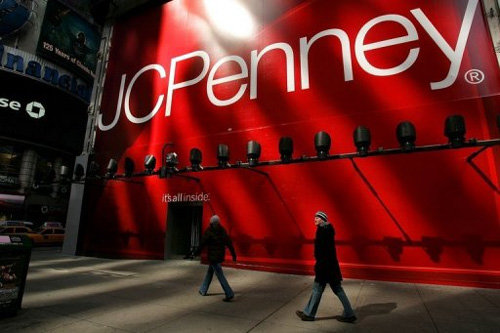 Photo AFP/Getty Images/File, Spencer Platt
Shares of the retailer, which also unveiled on Monday the first three of its new in-store shops, were up 1 percent in afternoon trade.
Penney has been revamping stores, merchandise and strategy under new Chief Executive Ron Johnson, who previously ran the retail division at Apple Inc.
Johnson is trying to ignite Penney's sales and profits by transforming the mid-tier department store into a hip place to shop. He got rid of profit-sapping discounts that came to be a Penney hallmark and is carving the stores into dozens of in-store shops and boutiques dedicated to a particular brand or theme.
"Johnson has a real vision of how he intends to remake Penney, to make it a much cooler place to shop," said Gilford Securities analyst Bernard Sosnick. "There's much to be said if he can accomplish that goal, but having 20 new departments will take time. In the meanwhile, sales are sliding."
On Monday, Penney unveiled the first three of its new departments, displaying a focus on jeans timed to coincide with the late summer back-to-school season, the second-most important time of year for retailers.
Starting on August 1, 683 Penney stores across the country will have in-store shops dedicated to the Levi's and Arizona brands, as well as a new brand called "i jeans by Buffalo."
At the men's Levi shops, shoppers can sit at a "denim bar," talk to iPad-toting "fit specialists" and choose from 11 different cuts and 88 different finishes or washes. At the women's Levi's stores, consumers can shop by body type, using their "curve ID," said Ben Fay, executive vice president of real estate, store design and development.
That means women can identify themselves as having "slight curves," "demi curves," or "bold curves," Fay, who worked with Johnson at Apple, said.
Other in-store shops slated to open on September 1 include JCP men's and women's wear, Izod and Liz Claiborne.
Johnson started assembling a "dream team" last year to execute the turnaround for the 110-year-old company. But last month, a key member of the team, Michael Francis, left his position as president, after a new advertising campaign flopped.
Penney said in May that same-store sales during the first three months of its new pricing model fell a far worse-than-expected 18.9 percent. It also posted a large net loss and cut its dividend.
NEED FOR CASH?
While the current store changes only affect a portion of J.C. Penney's stores, the company expects to have in-store shops in all of its stores by 2015, said Fay.
He declined to provide details regarding the exact breakdown of capital expenditures between Penney and the vendors it partners with on the shops, though he did say that in some cases, vendors were contributing.
J.C. Penney spokesman Joey Thomas said the stake sale announced on Monday was "not because J.C. Penney needs cash".
"Simon Property Group is trading high, so market conditions were favorable for us to monetize a portion of our holdings," Thomas said in an email.
Penney said it exchanged 2 million units of ownership in Simon's subsidiary for $248 million, or $124 per unit -- a discount to Simon's current stock price.
Simon Property shares closed at $156.97 on Friday.
"To me, it says that maybe their cash position was getting low and that maybe they needed an infusion," said Gilford's Sosnick.
Following the transaction, JCP Realty Inc, a unit of the department store chain, continues to hold about 205,000 limited partnership units in Simon's operating partnership.
Gimme Credit analyst Carol Levinson said it was possible that Penney could sell its remaining shares to raise cash as well.
Penney shares were up 21 cents, or 1 percent, at $20.83 in afternoon trade on the New York Stock Exchange.
© Thomson Reuters 2023 All rights reserved.