Invista splits its time between East and West
The fiber and polymer manufacturer is restructuring its business activity. The Lycra owner will split its spandex business between the East (South Asia and Asia-Paficique) and West (which includes Europe, the Middle East, Africa and the Americas, both North and South).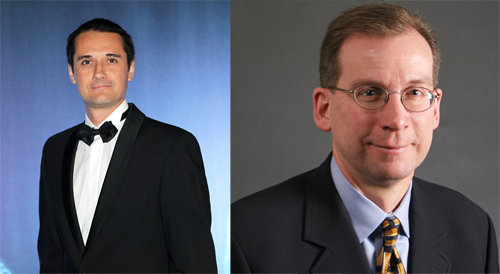 Serge Vigouroux and Bob Kirkwood
The West will be managed by Max Wiesendanger, while the East is in the hands of Dan Kotkin. In addition, supply chain and business development for the spandex sector will be entrusted to Wally McWalter, while the polyamides sector will return to Don Burich, previously head of international business.
The company will use these changes to its advantage by bringing together the marketing organization of Invista Apparel and the international technology team. This Technology and Marketing division will be led by Bob Kirkwood, who had thus far been in charge of research and development for the group. He takes over the marketing functions of Serge Vigouroux, executive vice president, who will in turn assume new responsibilities in the development and the strategy for Lycra.

"These organizational changes will allow us to better match our global resources to the dynamics of the textile market for each region, to reinforce our innovative strategies and to improve our relationship with our clients in a way which will be mutually productive," explained Dave Trerotola, president of Invista Apparel.
Copyright © 2023 FashionNetwork.com All rights reserved.