Inditex 2009 net profit beats forecasts
MADRID (Reuters) - Zara-owner Inditex (ITX.MC) reported a 5 percent rise in net profit for 2009, beating analysts' forecasts, as Europe's biggest clothing retailer defied a grim recession on home turf Spain to take market share.
Inditex, which makes around a third of its sales in Spain, also reported strong sales growth since the beginning of the year.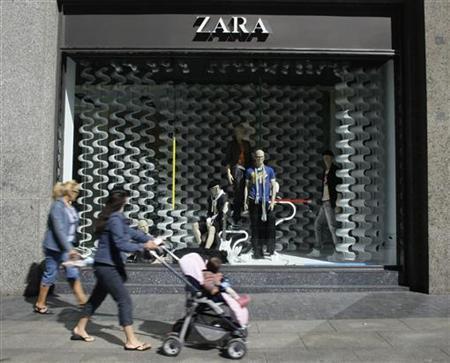 Sales at constant exchange rates had risen 14 percent since the start of the company's financial year on February 1, the company said.
Inditex, whose other brands include youth label Bershka and homewares store Zara Home, said it would pay a special dividend of 0.10 euros per share on November 2 this year.
Fraser Ramzan at Nomura questioned the size of the special dividend given the company's cash-rich position.
"The cash position was fantastic at the year end and that will probably raise a few questions as to why the dividend wasn't increased by more," he said.
He said Nomura had expected an end-year cash position of around 1.6 billion euros against the 2.4 billion euros booked.
Inditex and its Swedish rival H&M (HMb.ST) have shown resilience in an economic slowdown in Europe and the United States by continuing to tempt cash-strapped shoppers with high-fashion, competitively priced clothing.
H&M posted forecast-beating fourth-quarter results earlier this year as a pick-up in retail spending helped to reverse a trend of declining sales, and got 2010 off to a good start.
(Reporting by Sonya Dowsett, editing by Will Waterman)
© Thomson Reuters 2023 All rights reserved.