ICSC tempers June sales view
June 28 - The International Council of Shopping Centers has slightly tempered its outlook for June sales at leading U.S. retail chains, but stands by its outlook for the full year.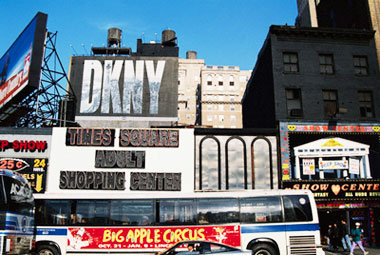 The Time Square Adult Shopping Center in Manhattan - photo: corbis
Speaking at the Reuters Consumer and Retail Summit, ICSC Chief Economist Michael Niemira said on Monday that at the retailers tracked by ICSC, he expects June sales at stores open at least a year to rise about 3 percent, including a lift from higher gasoline prices that boosts sales at retailers that operate fuel pumps.
"Three percent isn't bad, but it (has been) a lot more uneven over the last month," Niemira said, adding that the forecast is at the low end of his prior 3 to 4 percent range.
"It's a function of where we are in the business cycle," he said. Consumer demand is "more choppy and I think it's an environment that you have to be a bit more cautious, innovative and keep your eye on the consumer much more closely."
Even though consumer spending may get a lift in coming months as gasoline prices come down, Niemira said "moderate" is the word he would choose to describe the environment for the rest of the year.
"I really don't see us seeing a huge lift in consumer spending. At best we are likely to keep the momentum going," Niemira said, referring to the second half of the year, which includes the key back-to-school and holiday shopping seasons.
He said he expects an overall gain of about 3.5 percent for the full year, in line with the trade group's earlier forecast.
That level of growth is "sort of what you would expect" given the current economic situation, Niemira said.
"The risk is it slows from that pace because you're not getting a boost from employment," he said.
Niemira said he was keeping an eye on the industrial and financial sectors.
"Green jobs are a nice talking point but it's not enough jobs to matter. As long as our financial sector is still weakened I think that is a problem," he said.
But the retail sector has been enjoying strong profits, and Niemira said that boded well for the economy.
"Keep an eye on those profits because that's really the telltale sign of where the industry's going and where ultimately the economy's going," Niemira said. "As long as profits continue to be strong, so too does the industry."
(Reporting by Martinne Geller; Editing by Matthew Lewis and Tim Dobbyn)
© Thomson Reuters 2023 All rights reserved.