Hyères 2009 won over by Latvian pair
The years pass by and bring with them a wide variety of events. The only constant in the world of fashion is creativity, and this year men's collections have seen more creativity than usual. At the 24th 'Festival International' of fashion and photography at Hyères (from 24 to 27 April 2009), it was Marite Mastina and Rolands Peterkops from Latvia who walked off with three awards, including the coveted Grand Prix Mode.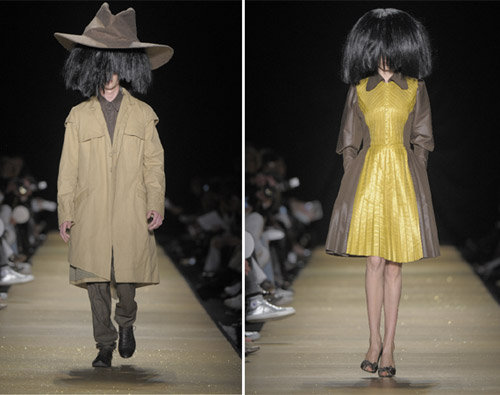 Creations of Marite Mastina and Rolands Peterkops, Grand Prix Mode 2009
Their mixed collection "Private Detective" was inspired by the clothes seen in film noir. Models took up the most overused stereotypical symbols of the genre: the detective's raincoat, the sexy dress of the heroine, the spy's coat… Like an exaggerated drawing, certain proportions of the clothes had been distorted and accentuated and each of the outfits came with a large wig. Between role playing, black humour and cartoons, the feel of the collection was one of surrealism.
It was very much appreciated, the collection by Marite Mastina and Rolands Peterkops also won the Grand Prix Mode L'Oréal Professionnel and the Prix1.2.3. The reward for each, a grant of €15,000, but also help with make-up and hair-styling for their future catwalk from the cosmetics giant which gives its name to one of the prizes. Furthermore, the pair will receive help with the production of a ready-to-wear clothing line.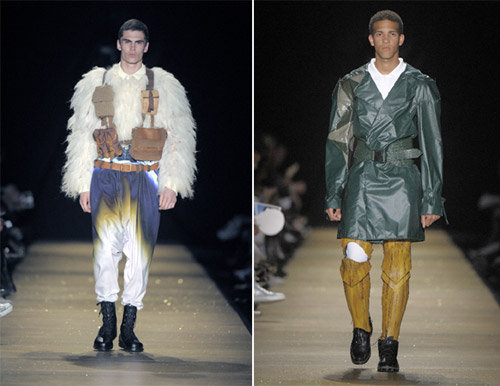 Designs from Harald Lunde Helgesen on the right and Simon-Pierre Toussaint on the left
As for Simon-Pierre Toussaint (from Belgium), he won both the Prix du Public and the Prix Crystallized Swarovski Elements, sharing the latter with Harald Lunde Helgesen (from Norway); both designers had developed men's outfits.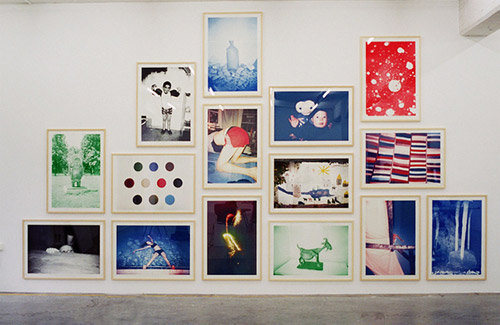 Installation of fifteen images by Linus Bill, 2008
Finally, fashion photography is not slacking with a similar remarkable level of creativity on display. From the ten shortlisted photographers it was Linus Bill (from Switzerland) who received the Grand Prix de la Photographie.
A compulsive photographer, Bill photographs everything, all the time. Family and friends, strangers, interiors, exteriors, real life, still life, spontaneous, planned out… No theme or criteria preside over his shooting. Recent photos join older ones in his archives, we he draws from to create a group for an exposition or publication. Each of the images are reproduced on a large silk screen, giving his photos a painting like quality which is unique to each of them.

By Jonathan Fulwell (Source: Céline Vautard)
Copyright © 2022 FashionNetwork.com All rights reserved.