Hugo Boss has no plan to delist, top investor says
By Antonella Ciancio

MILAN (Reuters) - Hugo Boss has no plans to delist its shares and the Marzotto family, among the leading shareholders of the German fashion house, is in it for the long term, the family's top representative Gaetano Marzotto said on Thursday 13 May.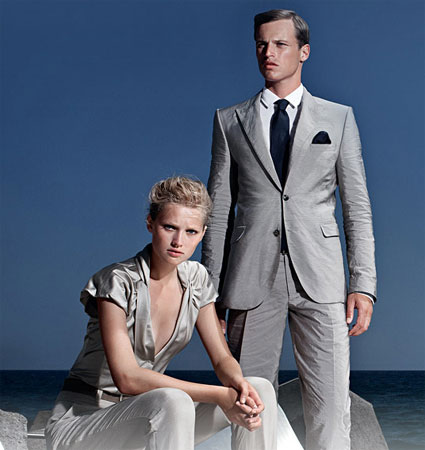 Photo: www.hugoboss.com
Hugo Boss shares soared as much as 6.5 percent last month on speculation the Marzottos might be planning a buyout with co-owners private equity firm Permira.
The Marzottos, one of Italy's best-known textile families, promptly denied the speculation, but an Italian newspaper later reported a delisting plan might have been behind the move.
"Being on the bourse is very important to us. If we wanted to go private we could have done it last year," Marzotto told Reuters on the sidelines of a fashion conference. "(Delisting) would have cost us much less than recapitalising the company."
In December, Permira and the Marzotto family -- which together control a company that holds 55 percent of Hugo Boss's voting shares -- injected 250 million euros of cash to cut the debts of Valentino Fashion Group (VFG), under which deal Hugo Boss ceased to be part of VFG.
The Italian family still controls the two fashion groups via a 22 percent stake in the Red & Black holding company.
"We are long-term investors. We have been in Hugo Boss since 1991. We believe in the companies," added Marzotto, who sits on Hugo Boss's supervisory board together with his brother Luca.
Marzotto, now in his mid-50s, said he expected Hugo Boss and VFG to grow in coming years, helped by the split. "We think that both companies have a very strong potential in the next three to five years," he said.
"In the first quarter (VFG) has made extraordinary progress in terms of cash generation. This trend continues," Marzotto said. "Shops are providing positive cash flow."
Hugo Boss has identified China as one of its key markets in Asia as it tries to be less dependent on Europe. It is in talks with its Chinese franchise partner and fashion retailer Rainbow Group to start a joint venture, sources told Reuters on Wednesday 12 May.
Another source with first-hand knowledge of the matter told Reuters on Thursday 13 May a "strong partnership" with Rainbow would be unveiled in June.
Hugo Boss shares earlier closed down 0.2 percent at 33.33 euros.
(Reporting by Antonella Ciancio; Editing by David Holmes)
© Thomson Reuters 2023 All rights reserved.