Hugo Boss CEO says end of crisis is near
By Eva Kuehnen
BERLIN, Jan 21 (Reuters) - German premium fashion house Hugo Boss (BOSG_p.DE) sees growing signs that the fashion industry has turned the corner and expects it to get back to past growth rates from 2011 as well-heeled shoppers splash out again.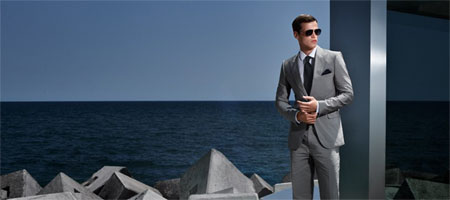 Boss Black menswear - Photo: www.hugoboss.com
"The end of the crisis is slowly beginning to show," Chief Executive Claus-Dietrich Lahrs told Reuters in an interview at the Berlin fashion week on Thursday 21 January.
"Orders for the upcoming autumn season have been very promising so far and we are approaching the winter season ahead of us with a more optimistic view," Lahrs said.
Hugo Boss will show the winter 2010 collection of its flagship label Boss Black in Berlin. Boss Black features elegant business, leisure and evening wear and its latest designs show rich, flowing fabrics, prints and a lot of attention to detail.
Hollywood stars Hilary Swank, Matt Dillon and Aaron Eckhart were expected to be in the audience for the show.
Hugo Boss is the latest to join an optimistic chorus of fashion and luxury retailers, gaining confidence after Christmas sales turned out better than expected for some and shoppers started to treat themselves again after months of restraint. Luxury goods group Richemont (CFR.VX), which competes with LVMH (LVMH.PA) and Hermes (HRMS.PA), posted forecast-beating sales over the Christmas period. [nLDE60G0CJ]
Retailers at Milan's menswear shows said the steep sales declines the industry saw last year had stopped.[nLDE60H1RH]
Boss CEO Lahrs took a similar stand, saying 2009 had by far been the most difficult year, taking a cautious view on 2010.
"I'm quite optimistic for the second half of 2010 and for what will follow in 2011. I expect that 2011 as a full year will enable the industry to get back to previous growth rates again," Lahrs said.
Hugo Boss plans to open about 50 own retail stores worldwide per year from 2011, Lahrs added.
U.S. consultancy Bain & Co expects global luxury sales to rise 1 percent this year to 155 billion euros ($220.2 billion) after a drop of 8 percent in 2009 as the crisis sapped demand for designer clothes, jewellery and watches. TOO CAUTIOUS
Hugo Boss, known for its sharply cut suits, benefited in the fourth quarter from re-orders from retailers who had ordered too little for the season thinking demand would be crushed more by the impact of the financial crisis, Lahrs said.
Retailers placed their orders for the current winter season in late 2008, early 2009 -- the height of the financial crisis.
Such behaviour hurt Hugo Boss' nine-month sales. It said at the time it expected fourth-quarter revenues to continue to fall at about the same pace as in the first nine months or by about 9 percent, while its operating margin would come in at 2008 level.
Hugo Boss, which is part of Permira's [PERM.UL] subsidiary Valentino Fashion Group, is due to report full-year results on March 30.
Lahrs said no decision about a dividend payout for 2009 had been made yet, but added that the company would prove its ability to pay dividends. Hugo Boss paid 1.37 euros per common share and 1.38 euros per preferred share for 2008.
According to StarMine, which weights analysts' forecasts by their track records, Hugo Boss trades at a discount to Italian shoemaker Geox (GEO.MI) and U.S. fashion company Polo Ralph Lauren Corp (RL.N), when measured by price to future earnings estimates.
(Reporting by Eva Kuehnen)
(([email protected]; +49 69 7565 1244; Reuters Messaging: [email protected]))
($1=.7040 Euro) Keywords: HUGOBOSS/OUTLOOK =2
(C) Reuters 2010. All rights reserved. Republication or redistribution ofReuters content, including by caching, framing or similar means, is expresslyprohibited without the prior written consent of Reuters. Reuters and the Reuterssphere logo are registered trademarks and trademarks of the Reuters group ofcompanies around the world.nLDE60H2CC
© Thomson Reuters 2023 All rights reserved.