Hot Topic says comparable sales trends steady; shares jump
By Nivedita Bhattacharjee & Shobhana Chadha
BANGALORE, April 14 (Reuters) - Shares of Hot Topic Inc (HOTT.O) rose 14 percent in hectic trading Wednesday 14 April as the teen apparel retailer said sales at its core businesses are picking up, and continued to expect strong performance at its Torrid division.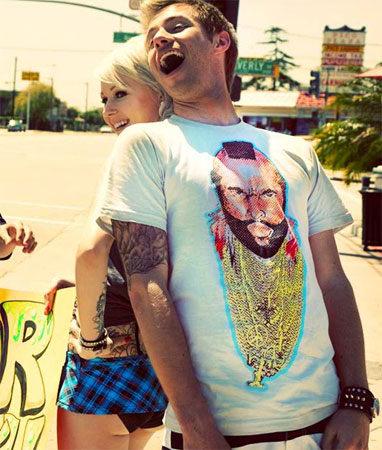 Photo: www.hottopic.com
Quarter-to-date same-store sales at its Torrid division, which mainly caters to plus-sized girls, were up 8 percent, the company said in a presentation at the Telsey Advisory Group's consumer conference.
Same-store sales at its namesake brand were down about 11 percent for the period, Chief Executive Betsy McLaughlin said, but added that excluding "Twilight" and "New Moon" merchandise, store sales were flat.
Unlike most other retailers, the company -- coming off the popularity of its "Twilight" merchandise last year -- is up against tougher year-on-year comparisons as it moves ahead into the year.
Hot Topic, which sells clothing as well as music and accessories to teenagers, many of who go for a "goth" look, also unveiled a new logo. Its CEO said the company is looking to market music "a bit differently."
"We sensed a much needed openness by management to evolve the Hot Topic brand from goth wares to a merchandise assortment and signage that includes more of a fashion hungry teen apparel base," said analyst Brian Sozzi of Wall Street Strategies.
Sozzi also said there is a continued improvement in the core fashion business. The rate of improvement is seen picking up a bit in the first quarter, at a time when Hot Topic is changing directions.
Earlier in the month, the company said it will pay a $1-per-share special one-time cash dividend and a regular quarterly dividend of 7 cents per share to shareholders of record April 19. [nSGE6360LB].
"Right now the market is buying into the story of a top-line recovery in addition to the fact of a dividend announcement last week," analyst Sozzi said.
About 7.8 million Hot Topic shares changed hands by 1200 ET, nearly four times their 10-day average volume. They were up $1.12 at $9.60 in midday trade on Nasdaq.
(Reporting by Nivedita Bhattacharjee; Editing by Gopakumar Warrier)
(([email protected] ; within U.S. +1 646223 8780; Outside U.S. +91 804135 5800; Reuters messaging: [email protected])) Keywords: HOTTOPIC/
(C) Reuters 2010. All rights reserved. Republication or redistribution ofReuters content, including by caching, framing or similar means, is expresslyprohibited without the prior written consent of Reuters. Reuters and the Reuterssphere logo are registered trademarks and trademarks of the Reuters group ofcompanies around the world.nSGE63D0D8
© Thomson Reuters 2023 All rights reserved.