Hilfiger helps Phillips-Van Heusen top view
NEW YORK | Mon Mar 28, 2011 - Phillips-Van Heusen Corp (PVH.N) gave an upbeat outlook on Monday, despite a hit to its business in Japan, and the clothing maker's shares rose nearly 3 percent in after hours trading.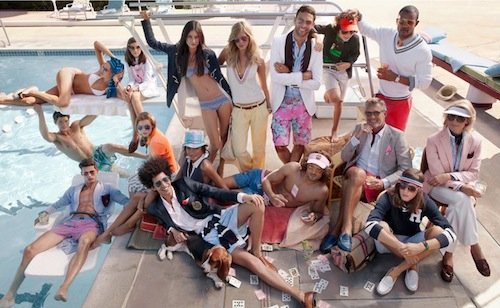 "The Hilfigers" SS11 Ad Campaign
Phillips-Van Heusen, which also owns the Calvin Klein brand, also reported better-than-expected fourth-quarter profit, helped by its $3 billion purchase of Tommy Hilfiger in May 2010.
The company said the current fiscal year, which will end in January 2012, is the first one to fully reflect ownership of Tommy Hilfiger, which has expanded its presence in Europe and Asia.
The company forecast full-year earnings of $4.70 to $4.95 per share, excluding items, and revenue of $5.58 billion to $5.66 billion. Analysts on average were expecting earnings of $4.75 per share and revenue of $5.38 billion, according to Thomson Reuters I/B/E/S.
PVH expects royalty revenue for its Calvin Klein brand to rise 7 percent to 8 percent this year, with royalty revenue for Japan projected at contractual minimums -- which would be $4 million less than in the year just ended. In addition, the company forecast a reduction of 25 percent, or $5 million, in operating income from its Tommy Hilfiger Japan business.
Overall, Morningstar analyst Peter Wahlstrom said Phillips-Van Heusen has done "a pretty good job executing" its business and expects anticipated price increases to offset higher costs for cotton and other commodities.
"When we look at next year, obviously everyone is talking about cotton and PVH has been no exception," Wahlstrom said, noting the company was also doing a good job reinvesting its profits for growth.
For the current first quarter, the company forecast earnings of $1.14 to $1.16 per share, excluding items, and revenue of $1.32 billion to $1.35 billion. Analysts expected earnings of $1.18 per share and revenue of $1.33 billion.
In the fiscal fourth quarter, which ended on January 30 and included the holiday shopping season, net income jumped to $52.2 million, or 72 cents per share, from $27.0 million, or 51 cents per share, a year earlier, before the company owned Tommy Hilfiger.
Excluding items, earnings in the latest quarter were 93 cents per share -- above analysts' average forecast of 83 cents per share, according to Thomson Reuters I/B/E/S.
Total revenue was $1.40 billion, up from $614.6 million a year earlier. Analysts expected $1.37 billion, according to Thomson Reuters I/B/E/S.
Phillips-Van Heusen shares were up 2.2 percent at $61.50 after-hours, after edging down 23 cents in the regular session to close at $60.17 on the New York Stock Exchange.
(Reporting by Martinne Geller; Editing by Gary Hill)
© Thomson Reuters 2022 All rights reserved.