Hermes says 2009 margins could slightly decline
* Hermes 2008 sales 1.76 billion euro ($2.26 billion)
* Q4 sales up 1.7 percent at constant currencies
* 2009 operating margin could slightly decline
* Sees 2009 sales at 2008 level, excluding currency impact.
(Adds details)
PARIS, Feb 6 (Reuters) - French luxury group Hermes (HRMS.PA) warned a possible drop in operating margins this year and flattish revenue growth after posting a 1.7 percent rise in fourth-quarter sales at constant exchange rates.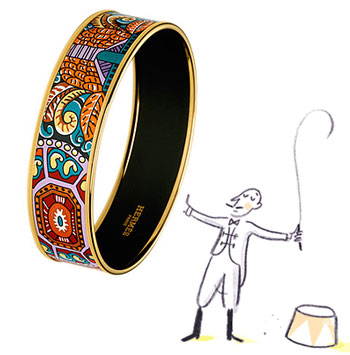 Hermès
Hermes, the world's second largest luxury group in terms of market value, on Friday said it had generated revenues of 540.9 million euros ($691.7 million) in the three months to Dec. 31, up from 509.3 million in the year-ago period.
The Paris-based company, known for its printed silk scarves and timeless leather handbags, said it planned to continue expanding its network of stores in 2009.
"The prevailing uncertainties over the economic situation make it difficult to project sales for 2009," it said in a statement.
"However, the target is for sales, excluding the currency impact, to be at least at the same level as in 2008, which could then bring a slight decrease in the operating margin."
Revenues in 2008 rose 10.2 percent at constant exchange rates and 8.6 percent at current exchange rates to 1.76 billion euros.
(Reporting by Astrid Wendlandt, editing by Marcel Michelson)
© Thomson Reuters 2023 All rights reserved.