Havaianas boutiques to open across Europe
After doing a trial last year with the opening of a store in Barcelona, Havaianas has announced its plans of more European boutique openings to come. The Brazilian brand, mostly known for its wide collection of flip-flops, has just opened a second flagship store in Spain, located in the city Valencia. In addition to this, customers can expect to see future store openings in London, Rome and Paris by the end of the second quarter.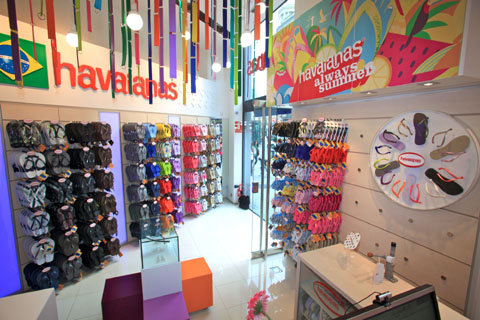 After an initial trial in 2010 Barcelona, Havaianas is ready to open more monobrand boutiques in Paris, London and Rome
"In Paris, we are currently undergoing negotiations to open a 30 to 40 metre-squared boutique in the Marais, explains Hervé Pinot, manager of Alpargatas in France (the Brazilian group whose flagship brand is Havaianas). We always look for premium locations for our stores which attract many opinion leaders and tourists. We do not wish in any way to substitute our retail network by this new wholesale one. Rather, it is an opportunity for us to put together and display all of our different models".
The attractive shop front is also likely to attract business partners that are interested in franchising. Working towards a 400% growth between 2009 and 2014, Havaianas is going to dedicate itself into expanding its franchise network, with the aim to open around 10 boutiques in 2011. In France, stores in Saint-Tropez and Marseille are already up and running, with a third one expected to open its doors anytime from now until the end of the year.
"We are thinking about keeping up this rhythm of around 10 store openings in Europe per year, Hervé Pinot adds. In regards to our expectations from now until 2014, retailing has allowed us to demonstrate that we are able to maintain good sales throughout the whole year. We have a Autumn/Winter line that we have been selling for about a year via specific partner stores".
This time, Havaianas is even launching a rain boots collection for the coming Autumn/Winter season, which will be available at London's Selfridges stores to begin with before being spread across the rest of Europe. 150 out of its 800 points of sale in France can expect to receive the new collection.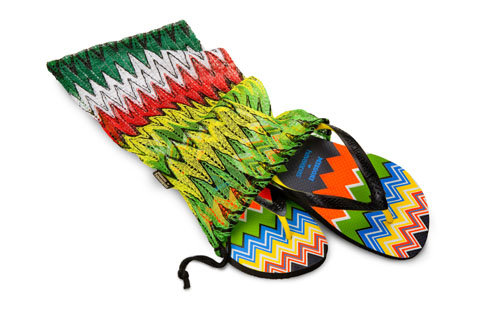 By making collections in collaboration with other brands, such as the one above with Missoni out on April 22nd, Havaianas ensures an image of high-quality products
This way, the Alpargatas Group, which had up to now only concentrated on specialised retailers and department stores for the sale of its Brazilian brand, is going to be venturing into the mass market by Spring 2012 with the establishment of the famous flip flops in Europe. For fiscal year 2010, the group announced sales figures of 947 million euros (2.2 billion Reais), up 16.2%, of which 261 million euros came from international sales.
Copyright © 2022 FashionNetwork.com All rights reserved.