Harry Winston falls to loss on mining segment
Harry Winston Diamond Corp (HW.TO) fell to a quarterly loss, as rough diamond sales dragged and the mining segment booked charges related to a unneeded facility, the company said on Thursday.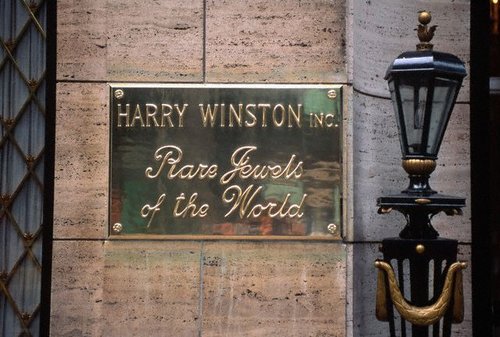 Harry Winston Jeweler Sign, Manhattan, New York / Photo: Corbis
The diamond miner and retailer posted a loss of $4.7 million, or 6 cents a share, in the third-quarter, ended Oct. 31. That compared with a profit of $12.7 million, or 15 cents a share, a year earlier.
Analysts had expected, on average, a profit of 5 cents a share, according to Thomson Reuters I/B/E/S.
Revenue fell 15 precent to $119.7 million.
Sales of rough diamonds fell 40 percent to $36.2 million, from $60.7 million in the year-earlier period, while the company's share of rough diamond production in the quarter increased to 0.8 million carats from 0.7 million carats.
The company said it is holding 1.1 million carats of inventory with an estimated value of $123 million, as of the end of the third quarter.
"We elected not to sell the full rough diamond production into a weak market during the quarter but continued to supply the segments where demand remained resilient," Chief Executive Robert Gannicott said in a statement.
The company expects diamond sales to pick up in December, but warned that the lack of credit available to diamond processors will continue to strain the industry.
The mining segment was hit by a $13 million non-cash charge related to a backfill plant that is no longer needed under the revised underground mining methods.
It added that the Diavik diamond mine in Canada's Northwest Territories is on track to produce some 6.9 million carats in 2011.
Harry Winston owns a 40 percent stake in the Diavik mine and also operates retail jewelry outlets around the world.
Sales for Harry Winston's luxury brand segment rose slightly to $83.5 million from $80.2 million the prior year. The Toronto-based company said it is focused on growing its core bridal jewelry business and its watch business, along with new collections.
(Reporting by Julie Gordon in Toronto; editing by Rob Wilson)
© Thomson Reuters 2023 All rights reserved.