Hammerson posts dip in occupancy rate
April 28 - Anglo-French property investor Hammerson said overall occupancy across its retail and office portfolio dipped below its target 97 percent in the first quarter as tenants battled tough economic conditions.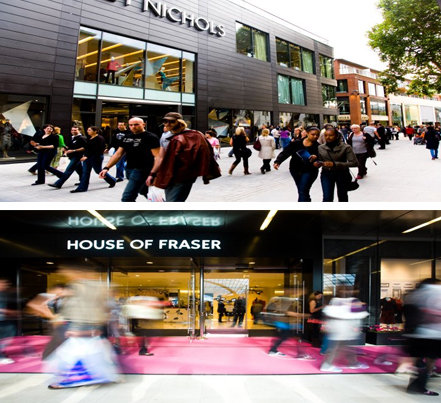 Harvey Nichols and House of Fraser are two of the many retailers found at Cabot Circus, a shopping centre in Bristol owned by property investor Hammerson
Hammerson's UK shopping centres booked a 1.5 percent like-for-like sales increase over the period while in France like-for-like sales in shopping centres were down 0.3 percent.
Occupancy dropped to 96.7 percent at end-March from 97.3 percent at Dec. 31.
"Whilst the economic backdrop for consumers remains difficult, we are seeing the benefit of our focus on regionally dominant shopping centres and convenient retail parks, which continue to attract successful retailers," Chief Executive David Atkins said.
Demand from retailers for high-quality space had remained strong, the company said, pointing to new fashion lettings in the UK, and the number of units occupied by tenants in administration fell to 32 at end-March from 36 at end-December.
Hammerson said it had secured a new 505 million pound, five-year revolving credit facility, up from 400 million pounds.
Borrowings at the end-March were 2.2 billion pounds and cash balances were 69 million pounds, giving the company a net debt of 2.1 billion pounds compared with 1.8 billion at Dec. 31.
(Reporting by Karen Foster, editing by Sinead Cruise)
© Thomson Reuters 2023 All rights reserved.