Hammerson acquires six UK retail properties
Mar 23 - Anglo-French mall owner Hammerson has bought six British retail assets for 208 million pounds, equivalent to a yield of 7 percent, from St Martins Property Investments.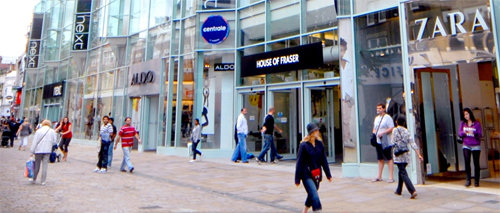 Shopping centre Centrale in Croydon, London: the biggest property acquired by Hammerson
Including transaction costs, the deal totalled 221 million pounds, Hammerson said on Wednesday, adding it had also bought the remaining 75 percent interest in the Central Retail Park, Falkirk, for 69 million pounds including costs.
"There is scope for Hammerson to create value through the rejuvenation of the principal assets (Centrale, Monument Mall and Elliott's Field) via development and asset management initiatives," Hammerson said.
The biggest retail asset is the 65,000 square metre shopping centre Centrale in Croydon, London. It also included two malls -- the 9,000 sqm Monument Mall in Newcastle and the 17,000 sqm Three Spires in Lichfield.
Other assets acquired were the 13,000 sqm retail park Elliot's Field in Rugby, the 6,000 sqm Cathedral Lanes shopping complex in Coventry, and the 4,000 sqm retail warehouse unit Wickes in Folkestone.
(Reporting by Andrew Macdonald; Editing by Dan Lalor)
© Thomson Reuters 2023 All rights reserved.