H&M to enter in Indian market
27 June 2011 - (WGSN) - Swedish fashion retail giant H&M plans to enter the Indian market and has begun talks with domestic industry leaders and set up its first store in the country within 24 months.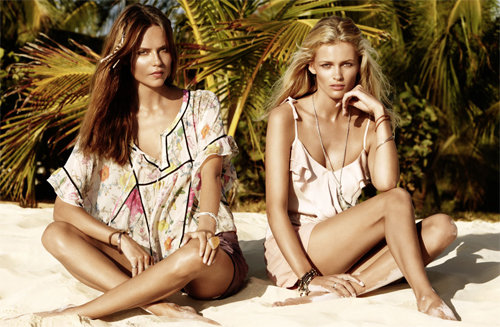 H&M SS 2011 campaign
The fast fashion retailer made the decision based on the country's "relaxed foreign business investment norms" and the market's "relatively robust consumer sentiments," the Times of India reported, citing industry sources familiar with the matter.
H&M is thought to have had recent meetings with developers Phoenix, DLF, ITC Group and Mukesh Ambani's Reliance regarding the expansion, but said it is keeping its options open as it looks for a long term, viable business model for a country it considers a key growth market.
"H&M is at the preliminary stages of firming up their India plan. I will be surprised if we get to see the first H&M stores before fall/winter of 2013," said a person briefed on the matter.
A key concern for the company is thought to be whether to follow the approach of fierce rival Zara and its aggressive 'home pricing' model, which sees prices at its domestic stores at around 12-15 % cheaper than its global operations.
Source: WGSN