H&M signs up Rykiel in latest high-end venture
STOCKHOLM, Sept 28 (Reuters) - Swedish fashion retailer H&M (HMb.ST) has signed up French designer Sonia Rykiel for its next two collections, the latest in a string of big-name partnerships aimed at helping the brand reach more upmarket shoppers.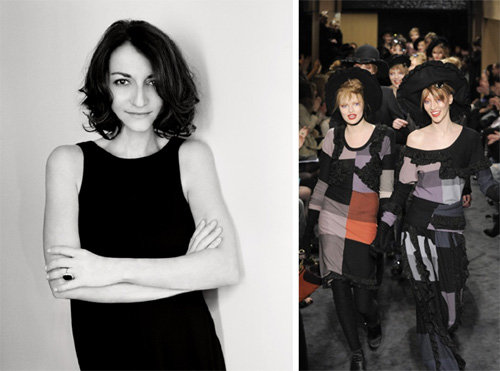 Nathalie Rykiel the end of the autumn-winter 2009 catwalk - Catwalk photo : Pixel Formula
Rykiel will design lingerie and knit-wear collections to be launched at some Hennes & Mauritz stores in the winter of 2009 and spring 2010, respectively, joining other exclusive guest designers such as Jimmy Choo and Karl Lagerfeld.
The partnership marks the eighth time the high street fashion house has teamed up with haute couture names to design a one-off clothing line or entire collection, in a strategy analysts say has helped to boost awareness of its brand worldwide.
"Those special collections make a big difference," said Stefan Billing, an analyst with HQ Bank. "They (H&M) put themselves on the map in terms of higher-end customers, people who come to the store to find top-notch designer names."
Henrik Sjodin, a marketing strategy researcher at the Stockholm School of Economics, said H&M's high-profle partnerships gave it a reputation for quality while enabling it to draw customers away from higher-end retailers.
"H&M has become associated with higher quality and better fashion than previous years, not least thanks to this string of collaborations with high-end designers," he said.
British rivals have also called on outside talent to sharpen their image, with Topshop recently renewing its three-year contract with guest designer Kate Moss, and pop singer Lily Allen signing off on some items for New Look.
From the designers' perspective, joining forces with a retail giant can bring substantial income but also the chance at unparalleled visibility before a wider audience.
"H&M has exceptionally strong brand value, among the top 25 worldwide," Sjodin said. "For the designers this (partnership with H&M) is a way of coming out to new customer groups and of getting exposure."
Still, aside from exposure for both parties, analysts say it's difficult to quantify how such collaborations reflect on earnings, as the details of the deals -- including how much the designers are paid -- are rarely disclosed.
"When you look at the reported numbers... it's hard to see the impact on earnings -- but if they didn't see value in such synergies they wouldn't do it, and you don't know how they account for it on their balance sheet," HQ's Billing added. (Reporting by Nick Vinocur and Veronica Ek; editing by Mike Nesbit)
© Thomson Reuters 2022 All rights reserved.