Groupon raises $500 million
Web advertising firm Groupon Inc, considered one of the fastest growing Internet companies in history, has raised $500 million by selling an equity stake, a month after reports that it turned down a $6 billion takeover offer from Google Inc.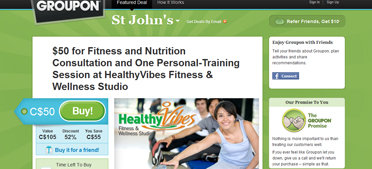 www.groupon.com
Groupon, which specializes in local advertising, said in a regulatory filing on Thursday that the bulk of the funds would be used to buy back shares from investors.
It did not specify the size of the stake sold or identify the buyer or buyers. A company spokeswoman declined to comment.
Chicago-based Groupon said in the filing that it was still looking for more cash, hoping to raise a total of $950 million as it expands in markets as far away as Europe and Latin America.
Following Groupon's success breaking into local web advertising markets in the United States and Canada, investors are eager to get in on what analysts say could be the next blockbuster Internet company.
"The growth of the company has been unprecedented," said Internet analyst Greg Sterling. "Investors are really hungry for these sort of big hits. They are looking for a breakout."
Founded just three years ago, Groupon dominates the emerging space of selling products from local merchants at big discounts to customers who subscribe to offers via email. The deals are only activated when a certain number of buyers sign up.
Groupon employs a large salesforce to sign up local merchants to advertise on the site. It has about 1,000 people working in its Chicago headquarters, an office in Palo Alto, California, and regional offices in Europe and Latin America, according to its website. It also has local account executives in many cities.
"It has cracked the local code," said Dana Settle, a partner with Greycroft LLC. "A lot of dollars have floated into local markets. But so far it's been a challenge for (Internet) companies to get out and build a salesforce that can tap into those markets.
RIVALS APPROACH
Groupon's model has attracted the attention of aggressive start-ups as well as giants such as Google. Amazon.com Inc recently invested in Groupon rival LivingSocial.
Groupon has a big lead in the online discount coupon space, according to analysts.
"There's a very high chance that Groupon will practically own the global market two years from now. And any market in which they're too late, they'll be able to buy rivals," said Mayuresh Masurekar, analyst at Kaufman Bros.
Groupon's big challenge is to turn its advantage in the discount coupon market into a lead in the broader market for local advertising, said Sterling.
"They can do a lot of different things," he said. "They can build out adjacent products that meet a variety of advertising needs."
Analysts say there is a risk that a bigger company like Google, or a rival like LivingSocial, could oust Groupon from its perch.
There are few barriers to entering the market: a company only needs to hire a salesforce and start churning out emails, said Trip Chowdhry, an analyst with Global Equities Research.
"Groupon's business model is very imitate-able," Chowdhry said.
VALUATION
In a Tuesday filing with the State of Delaware, Groupon said it intended to price the shares in the equity sale at $31.59 each. That would value Groupon at $6.4 billion to $7.8 billion, depending on the number of shares issued, according to VC Experts, a firm that follows investments in private companies.
Groupon raised the $500 million a month after reports that it had turned down a $6 billion bid from Google. It would have been Google's biggest acquisition.
The bulk of the funds raised -- $344.5 million -- will be used to buy back stock from shareholders, Groupon said in a filing with the U.S. Securities and Exchange Commission.
Groupon's shareholders include Chief Executive Andrew Mason -- who lives in a Chicago apartment with his girlfriend and more than 20 cats -- and Digital Sky Technologies, which is also an investor in Facebook.
Analysts estimate Groupon has annual revenue of anywhere from $500 million to $2 billion.

By Jim Finkle
(Additional reporting by Toni Clarke, Yinka Adegoke; Editing by Derek Caney and John Wallace)
© Thomson Reuters 2023 All rights reserved.