Graff upbeat on $1 billion IPO despite market slump
HONG KONG - London luxury jeweller Graff Diamonds has seen "tremendous interest" for its Hong Kong IPO of up to $1 billion, which is entering its final stretch in the shadow of a global stock market rout.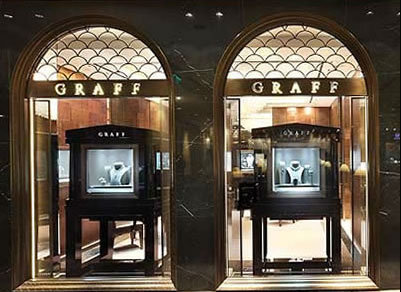 Graff's store in Taipei / Photo: Graff Diamonds
Famous for its giant and rare gems, Graff will on Monday test retail investors' appetite for what is set to be Asia's biggest IPO this year.
The IPO comes close on the heels of the botched $16 billion Facebook Inc offering, which has undermined investor confidence.
"We are building the book every day, we have tremendous interest in the company across the board, we are very happy," CEO Francois Graff said via a video conference from London, without elaborating how much demand the offer has generated.
Since Graff Diamonds' management began meeting institutional investors and fund managers on May 7, global stock markets have gone into a tailspin.
One of Graff's nearest rivals, Tiffany & Co, cut its sales forecast last week, blaming it on slowing demand from key markets such as China.
However, Graff executives were upbeat.
"I think it's important to understand that our target audience is extremely resilient and very much insulated to the general gyrations of world economies," Graff told a media conference to launch the Hong Kong offer.
"It makes, in our opinion, little difference if the Chinese GDP (growth) is 7 or 7.5 percent to the performance of our business and our particular segment."
Some analysts and fund managers have questioned the company's valuation in the face of a slowdown in luxury spending in China. That has made some investors cautious about the IPO.
The benchmark Hang Seng index .HSI is down almost 9 percent since Graff started meeting investors, while stocks in the luxury goods sector have tumbled further.
Hong Kong jeweller Chow Tai Fook has plunged about 23 percent over the same period, while Tiffany & Co has shed 13 percent.
Shares in Tiffany fell 6.8 percent on Thursday alone after the company cut its fiscal-year profit and sales forecasts.
Like many other luxury names, Graff is betting big time on Asian billionaires, and a Hong Kong listing will bring it to the doorstep of that growth.
"The opportunity that we perceive in China is an epic opportunity," Graff said.
Overall retail growth from Asia more than doubled in the first quarter of 2012 from a year ago, and Graff aims to more than triple its directly owned stores in Asia by 2013.
Graff plans to price the offer on Thursday and the stock is expected to debut on June 7. If successful, this will be the second time Graff will start life as a public company.
It first listed on the London stock exchange in 1973, though founder Laurence Graff decided to delist the company in 1977.
Graff would join Italian fashion house Prada SpA, luggage maker Samsonite, French cosmetics company L'Occitane and other global brands looking to tap booming consumer demand and rising wealth in Asia with a Hong Kong listing.
Credit Suisse Group, Deutsche Bank, Goldman and Morgan Stanley were hired as joint global co-ordinators on the IPO. Rothschild is advising Graff on the transaction.
The underwriters will earn gross commission of up to 2.5 percent the prospectus showed, compared with 1.9 percent which Prada paid last year for its $2.5 billion IPO. Hong Kong IPOs earn between 2 percent and 3.5 percent depending on the size of the offer.
© Thomson Reuters 2023 All rights reserved.