Graff to seek HK nod for $1 billion IPO on May 3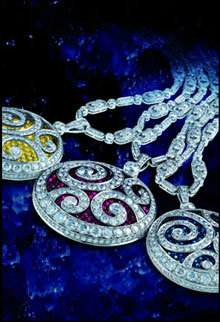 Photo: Graff Diamonds
HONG KONG - Graff Diamonds, a high-end jeweller based in London, will seek approval from the Hong Kong stock exchange on Thursday for an initial public offering of as much as $1 billion (617 million pounds), two sources with direct knowledge of the plan said.
The share sale would surpass the $600 million listing by the property fund of Tesco's Thai unit, the biggest IPO in the Asia-Pacific region so far this year, according to Thomson Reuters data.
No timetable had been set for Graff and its advisers to start meeting with potential investors, the sources, who were not authorized to speak publicly on the matter, said on Wednesday.
IPO candidates in Hong Kong have previously started drumming up demand for their deals in the week after getting approval from the exchange.
Graff, founded by Laurence Graff in 1960, has been targeting to list in the second quarter, a source previously told Reuters. The listing would come on the back of a 14.4 percent jump in the benchmark Hang Seng index .HSI in 2012.
The company, whose giant gems and rare diamonds have been worn by royalty and celebrities such as the sultan of Brunei, Oprah Winfrey and Imelda Marcos, would join Prada SpA and other global brands looking to tap booming demand for luxury goods in China.
Stock issuance in the Asia-Pacific has tumbled 21 percent since the beginning of 2012 compared with a year earlier as investors shunned IPOs and follow-on offerings on concerns over Europe's debt crisis and slower economic growth in China.
Haitong Securities Co Ltd 6837.HK, China's second-biggest broker by assets, made a flat debut in Hong Kong on Friday after raising $1.7 billion in a share offering.
Other large deals expected in the city in 2012 include the $800 million IPO by Fosun Pharmaceutical. Elsewhere in the region, Felda Global Ventures Holdings plans a $3 billion IPO in Malaysia and Formula One racing could list in Singapore in a $2 billion deal.
Credit Suisse Group AG, Deutsche Bank AG, Goldman Sachs Group Inc and Morgan Stanley are acting as joint global coordinators on the Graff IPO. HSBC, Barclays and ICBC International were also hired to help underwrite the deal.
© Thomson Reuters 2022 All rights reserved.