Graff braves volatile markets with $1 billion Hong Kong IPO
HONG KONG - High-end jeweler Graff Diamonds is forging ahead with an initial public offering to raise up to $1 billion, setting a price range on Friday for its Hong Kong flotation despite a sell-off in equity markets.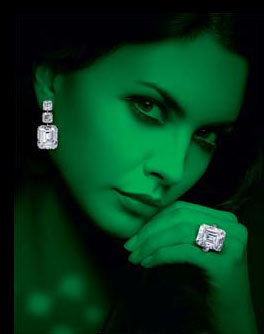 Photo: Graff Diamonds
The London-based jeweler, founded by billionaire Laurence Graff in 1960, set an indicative share price range at HK$25 - HK$37, according to two sources with knowledge of the plans who were not authorized to speak publicly on the matter.
Graff plans to sell $850 million of new shares and another $150 million in existing shares, the sources added.
The deal will comprise 211-312 million shares and could rise by 15 percent with a greenshoe option to meet additional demand, one source said.
A company spokeswoman in Hong Kong declined to comment.
Graff is hoping to join Italian fashion house Prada SpA, luggage maker Samsonite, French cosmetics company L'Occitane and other global brands that have listed in Hong Kong looking to tap booming consumer demand and rising wealth in Asia.
The company is betting on resilient demand for diamonds and high-end jewellery in the coming years, its founder said in a interview in November.
Graff is offering shares at a 2012 price-to-earnings multiple of 18 to 24 times, sources told Reuters. By comparison, luxury fashion house Prada trades at a multiple of 20.4 and Hermes International SCA at 41 times, while Tiffany & Co trades at 15 times and Hong Kong jeweler Chow Tai Fook at 12.5.
"18 to 24 P/E is pretty high," said Terry Cheng, an analyst at Piper Jaffray in Hong Kong. "I think for Graff we would need a more reasonable P/E of around 15."
Graff is tapping Hong Kong equity markets after the worst start for IPOs in the Asia-Pacific region in about four years, with overall equity market activity down about a fifth from last year.
The benchmark Hang Seng index .HSI is down 7.2 percent since May 7, when Graff executives, its bankers and advisers began meeting institutional investors and fund managers to gauge demand for the offering.
Luxury goods stocks have also slumped, with Chow Tai Fook down about 16.6 percent over the period and Tiffany & Co. falling 8.6 percent.
Graff's profit should reach $264 million in 2014 from $117 million in 2011, but the growth rate is forecast to slow in the coming years, according to a Goldman Sachs research note.
Credit Suisse Group, Deutsche Bank, Goldman, and Morgan Stanley were hired as joint global coordinators on the IPO. Rothschild is advising Graff on the transaction.
© Thomson Reuters 2023 All rights reserved.