Gowns take glamorous cues from bygone eras at Fashion Week
Elegance, sophistication and a touch of mystery dominated the runway at New York Fashion Week as designers took cues from bygone eras to feature glamorous gowns in silk, brocades, lace and velvet in their 2012 Fall/Winter collections.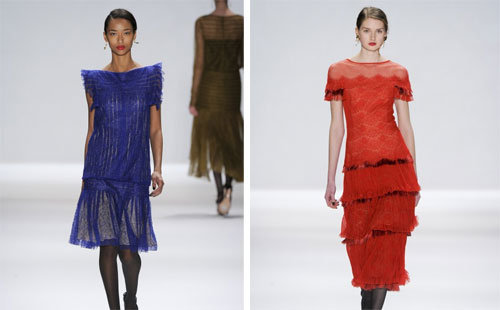 Tadashi Shoji Autumn/Winter 2012-13 collection
Like the Hollywood hit films "The Artist" and "Midnight in Paris" and the hugely popular TV drama "Downton Abbey" that captured an earlier age, designers created sleek, sultry styles with deep-cut fronts and backs with beads, embroidery and pleats reminiscent of the 1920s, 30s and 40s.
For Los Angeles-based, Japanese-born Tadashi Shoji it was 1930s Shanghai that captured his imagination. With graceful silhouettes, column gowns, drop waists, embroidered lace, handkerchief hems and cap sleeves from the Golden Age of Shanghai, when the city was known as the "Paris of the Orient," was recreated on the catwalk.
"It was a very opulent, mysterious, moody period in Shanghai and I wanted to capture it," he said after his show.
A flame-colored washed velvet long-sleeve gown featured a beaded lace cowl back, while another hazel digital peony print hammered satin gown had an open back with hand-beaded detail.
Blouson dresses, some in tea length, and floral embroidered tulle and lace were also prominent, as was the color gold.
"Everything is gold, but it is not a flashy gold. We did a very subtle, tarnished gold. I think gold is in this season," he said.

GLAMOUR, GRANDEUR AND FEMME FATAL

Asian influences were also evident in Zac Posen's collection with its geisha-look hair and makeup, kimono and origami-like details and figure-hugging gowns in gold, red, green and blue.
Dennis Basso chose "Mystery on the Orient Express" as the theme for his show with its palette of taupe, black, gray, white, navy and cayenne and luxurious furs.
"When you just say that line it sets a tone in everybody's head -- a touch of glamour and grandeur from a bygone era. I've taken a lot of those evening looks and translated them for the modern woman," he said.
Cocktail dresses and evening gowns were adorned with hand-beaded Swarovski crystal and small beads. He matched a black lavishly embroidered silk tulle dress with a black quilted Russian ermine and sable jacket and a sapphire and silver embroidered, trailing gown with a sapphire Finn raccoon vest.
"I think of that period in the late 30s of women getting dressed for dinner on the Orient Express, crossing the Atlantic or going to the Colony Club restaurant in New York or the Stork Club and bringing it forward, making it modern, making it sexy, making it today -- using the vintage aspect as a touch of inspiration, not necessarily, which is important, creating a vintage look," Basso explained.
Jenny Packman, a favorite of the Duchess of Cornwall, was drawn to the femme fatal look with a collection based on film noir with edgy, sultry creations in red, silver, blue, cream and black.
Marchesa's Georgina Chapman noted that 20s and 30s styles were "in the air" but the designer whose creations feature prominently on the red carpet at Hollywood award shows said she was inspired by a painting.
Her collection, in black, white, reds and blues, is based on the 1878 work "A Soul Brought to Heaven," by William Bouguereau, which depicts two angels carrying a young woman through dark clouds.
"We are looking at the idea of death and angels, religious aspects of iconography and religious art," Chapman explained in an interview ahead of her show on Wednesday.
"You'll see a lot of tulle. You are going to see a lot of embroidery and leading to a religious aspect of embroidery, silk, pleating, some re-embroidered brocades and leather."
Like other designers showing at New York Fashion Week, Chapman said the economy has sharpened the focus of her creations.
"It's been interesting with the economy, and it has made me and a lot of designers focus very much on what they are doing," she said. "You really have to give a consumer a reason to part with their money ... to give them something they can't find elsewhere."
Rather than making quick, impulse purchase of something that may only be worn only, Basso said today's women are making wiser choices and building their wardrobe on well-made clothes that can be worn again and again.
"Women will always want to look beautiful and I think that their partners enjoy that too," said Chapman.
(Reporting by Patricia Reaney; Editing by Christine Kearney)
© Thomson Reuters 2023 All rights reserved.