Givaudan sales seen bottoming, shares rise
ZURICH, Aug 4 (Reuters) - Swiss flavours and fragrances maker Givaudan (GIVN.VX) reported a smaller-than-expected decline in half-year sales, and improved margins as debt reduction measures started to take effect, boosting its shares.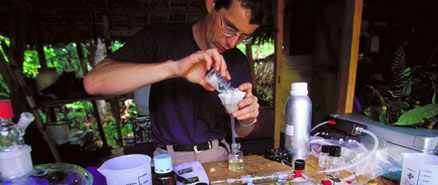 Givaudin - Photo: www.givaudin.com
Positive sales numbers and indications the market may have bottomed more than offset a worse-than-expected net profit of 95 million Swiss francs ($89 million), up 1 percent on a year earlier but below forecasts for 103 million francs in a Reuters poll of 13 analysts.
The company's shares were up 0.8 percent at 735 francs at 0914 GMT as investors focused on better-than-expected sales and signs that sales of high-margin Fine Fragrance products had bottomed out after weakening significantly in the past year.
At the same time, the DJ Chemicals sector index was down 1.3 percent. "You see the bottom of the swimming pool when you hit it. There is some indication that we are bottoming, absolutely," Givaudan Chief Executive Gilles Andrier told Reuters.
Givaudan, which makes ingredients for designer perfumes such as the Calvin Klein and Burberry brands, confirmed its previous forecast to outgrow the broader market for 2009 and said it was on track to achieve targeted savings of 200 million Swiss francs by 2010.
The company said in a statement it expected margins to improve to levels seen prior to the 2007 acquisition of Quest International by 2010.
Sales fell 5 percent from last year to 1.996 billion francs, but were a little ahead of analysts' average forecast of 1.971 billion francs. Falling perfume sales caused by the economic downturn depressed demand for fragrances, but by a lower-than-expected 6.5 percent.
Sales of flavours also weakened slightly compared with the first half of 2008.
"Sales were better than expected, and particularly fragrance sales came in above consensus estimates. Fine fragrances showed better-than-expected recovery in the second quarter," said Martin Flueckiger, an analyst at Swiss brokerage Helvea.
Gross profit was only marginally higher than consensus estimates but both EBITDA and EBIT, excluding acquisition-related expenses, were significantly higher.
"The outperformance appears mainly driven by the impact of cost containing measures, although earnings were below consensus because of higher-than-anticipated financial net expenses," Flueckiger said.
WORST PROBABLY OVER
Other analysts also welcomed the results.
Kepler Capital Markets analyst Jon Cox said in a research note his firm had raised its rating for Givaudan to 'Buy' from 'Under Review' and upped its price target to 800 Swiss francs from 750 francs.
"We believe the worst is probably over for the world's biggest maker of flavours and fragrances given the rebound in fragrances and robust demand in emerging markets" said Cox.
"The Q2 margin improvement after Q1 is also reassuring and the company has done fine work in terms of cash flow and cutting net debt."
The company issued 1 million new shares via a rights issue in June at a hefty discount of 420 francs per share, with the aim of reducing debt from its $2.25 billion acquisition of Quest.
Andrier did not rule out bolt-on acquisitions or investing to grow the business organically.
"We want to preserve our operational flexibility, not necessarily to buy another company but to invest in the right opportunities," he said.
The Geneva-based group trades at about 18 times forecast 2010 earnings, a premium to the DJ Stoxx European chemicals sector .SX4P and rivals International Flavors and Fragrances (IFF.N) and Symrise (SY1G.DE).
Givaudan, which makes ingredients for soaps, confectionery, soft drinks and designer perfumes, also competes with Firmenich in the $20 billion flavours and fragrances market, catering to customers like Donna Karan and Givenchy (LVMH.PA). ($1=1.070 Swiss Franc) (Editing by Simon Jessop)
© Thomson Reuters 2023 All rights reserved.