Givaudan's H1 margin slip gives rise to dividend fear
Sliding margins at the world's largest fragrance and flavors maker Givaudan raised fears that it may not be able to keep its promise to increase payouts to shareholders.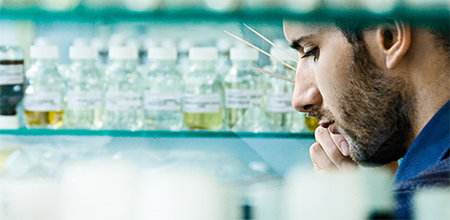 Givaudan: Swiss manufacturer of flavorings and fragrances
The Geneva-based company, which incurred huge debts with its 2006 acquisition of Quest International from ICI, has said it intends to return more than 60 percent of its free cashflow to shareholders once it reduces its debt ratio to 25 percent.
Though Chief Executive Gilles Andrier said on Friday that the debt target would be achieved early next year, the market was not impressed after the company reported first-half gross margin fell by 90 basis points year on year, to 42.1 percent, hit by costs related to pensions and a factory opening in Hungary.
Givaudan shares were down 5.2 percent by 5:00 a.m. EDT (0900 GMT), while the pan-European chemicals index .SX4P was up 0.7 percent.
Swiss broker Kepler said in a note to clients that the continued pressure on margins could "restart the discussion" about Givaudan's ability to increase its payout this year, adding that the dividend was a key reason for holding the shares.
Margins were also hit by Givaudan using up some of the raw materials purchased at the height of last year's price boom. The company's financial performance is strongly dependent on the prices of key raw materials such as citrus oils and crude oil-related products.
However, the wider picture looked considerably brighter as the company beat forecasts with a net profit of 201 million Swiss francs ($206 million), up 68 percent year on year, boosted by price increases, tight cost control and the absence of last year's one-off costs.
Sales rose to 2.1 billion francs, up 6.9 percent in local currencies, driven by strong demand from Asia and Latin America, with fragrances sales growing by 7 percent and flavors by 5 percent. The average forecast from analysts polled by Reuters was for net profit of 198 million Swiss francs and sales of 2.1 billion francs.
The company also confirmed its other mid-term targets, saying that it expects to outgrow markets over the next five years. Givaudan is targeting sales growth of up to 5.5 percent, against expectations for broader market growth of 2 to 3 percent, and an industry-leading operating profit margin.
Andrier remained upbeat about business prospects despite stagnating sales in Western Europe. "People are still consuming their daily needs in terms of toothpaste, healthcare and food and beverages," he told Reuters.
Slowing sales of luxury goods in China did not have any significant impact. "We have very little exposure. China is not yet a fine fragrance market, it is a cosmetics market," Andrier said.
U.S. rival International Flavours & Fragrances is due to publish its second-quarter results on Wednesday, while Germany's Symrise reports on Thursday.
© Thomson Reuters 2023 All rights reserved.