Geox sales drop by 15% in Europe
Geox is panting half-way already. During the first semester this year, the italian brand had registered circa 435 million euros, thereby collecting a profit (before taxes and interest) of 59 million euros.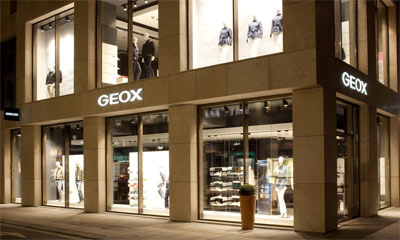 Geox boutique in Hambourg
The shoe specialist has suffered most in Europe. A part from Italy, its sales have dropped to 15%, that is 189 million euros. In Italy, this drop is less sharp, stopping at 5.2%. Most difficulties have arisen, so it seems, from its multibrand distributors whose turnover has also been low, around 16 per cent, equalling some 269 million euros. However, within mono-label shops, Geox has registered a 3.5% increase in sales, or 166 million. Sales have been particularly better in its own boutiques, marking an increase of 11%.
Mario Moretti Polegato, the brand's president and founder, comments that "during the second trimester, net sales increased by 4% and this increase is welcome especially for our own boutiques, whose sales amounted to a 3% rise in May and in June". He is confident regarding this positive trend and assures that there is an increase in pre-orders for the autumn/winter collections.
Copyright © 2023 FashionNetwork.com All rights reserved.