Geox launches breathable footwear: Amphibiox
From its Italian headquarters in Montebelluna, Geox has patented a new system for impermeable, breathable footwear: the Geox Amphibiox. Alongside this, its ready-to-wear range is extended to gain recognition as a lifestyle brand.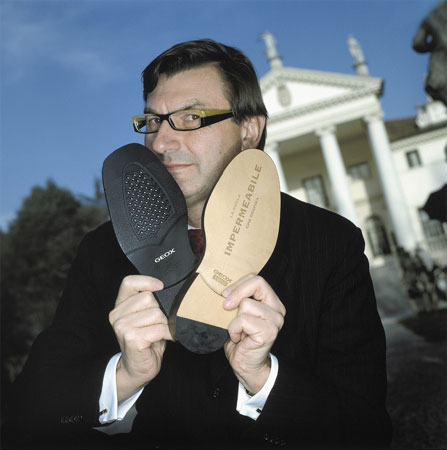 Geox's Founder and Director, Mario Moretti Polegato
Italian success story, Mario Moretti Polegato's brand dreamed up the concept of breathable shoes in the 90's. Following the Rubber patent (shoe soles made with breathable material), the Leather patent (breathable and waterproof leather soles), the Clothing patent (the breathable process applied to jackets) and finally the Sport patent (breathable trainer soles), the latest Geox Amphibiox line offers total waterproofing and breathable, micro-porous membrane.
While removing any foot transpiration, this membrane covers the interior lining and surrounds the foot like a sock which prevents the water from getting in the shoe and improves insulation to guarantee warmth and dryness. The Geox Amphibiox (110 Euros) will be launched in September 2010, reinforced by an advertising campaign.
Performance results: Geox has sold more than 20 million pairs of shoes in 2009 but also more than 2 million clothing items. Released three years ago, textile represents 12% of the brand's sales which attained 333 million Euros sales by March 31st 2010 (of which 40% derive from their home ground Italy). The women's, men's and children's collections are growing season after season and having commenced with only breathable tops, they now propose complete outfits.
The ready-to-wear is enjoying great success; the winter collection has already recorded a 20% increase in orders. The main aim is to sell as much clothing as they do shoes.
Copyright © 2023 FashionNetwork.com All rights reserved.