Gareth Pugh opens his first boutique in Hong Kong
The young British designer has just opened the first of his own shops. This is thanks to a partnership with IT Group.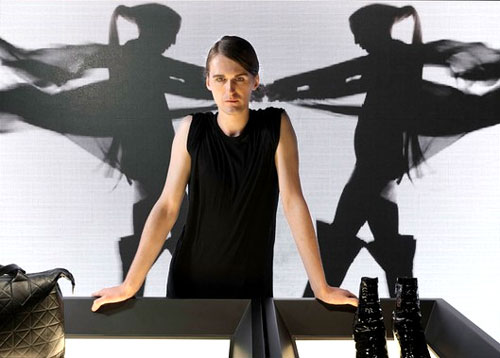 Gareth Pugh in his Hong Kong shop
The space hardly resembles a traditional shop. The black (Gareth Pugh's favourite colour) floor covering 50 square metres takes you passed an empty window display to the back of the shop where you can see a short film on a LED screen. This video was produced for his Autumn-Winter 2009/2010 collection. Created by Ruth Hogben, it shows graphic silhouettes of top model Natasa Vojnovic in Pugh's totally black designs. The walls, floor and furniture juxtapose a mixture of textural effects (matte, gloss, mirrored) to create optical illusions.
Located on Ice House Street in Hong Kong, this shop boasts a prime location alongside famous names such as Comme des Garcons, Ann Demeulemeester and Martin Margiela.
At not even 30 years old, Gareth Pugh is still continuing on his road to success. Launched in 2005 at London Fashion Week's On Off, he won Topshop's New Generation award in 2006, before being awarded "Young designer of the year" by Elle Magazine UK in 2007. In June 2008, the designer picked up the Andam prize in Paris which awarded him with the opportunity to show off his designs at his first catwalk show in the French capital that same year, in September. After womenswear, he launched clothes for men in 2009, whilst his first cosmetics collection was due to make its appearance.
Original by Céline Vautard. Translated by Rosie Hart
Copyright © 2023 FashionNetwork.com All rights reserved.