Gap succumbs to crowd's uproar and puts back its classic logo
Published
today
Oct 12, 2010
Gap acknowledges its failure to "crowd source" for a new logo, and has decided to keep its classic blue box logo, according to Marka Hansen, president of Gap North America.

When Gap announced their new logo via a post on its Facebook page on Oct 7th, it instantly received over 1,000 negative reviews from its own fans and customers. The post also asked its fans to send in their own designs, and thereby the company attempted to "crowd source" for a better logo.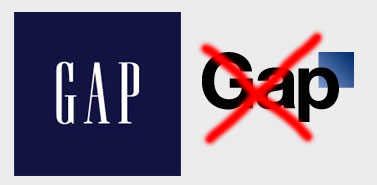 Gap's new logo is abhorred by fans
The following day, the 8th of October, the community manager of Gap's Facebook page posted a statement from Marka Hansen, the brand's president, who defended its latest version because it was aligned to how Gap's clothing was evolving, that is, "more contemporary and current", she explains.
To the relief of its many fans and customers, Gap has announced on the 12th of October its decision to keep its classic blue box logo. Marka Hansen explains in her latest statement the following: "We've learned a lot in this process. And we are clear that we did not go about this in the right way. We recognize that we missed the opportunity to engage with the online community.  This wasn't the right project at the right time for crowd sourcing."
In the meantime, the brand shall be restoring its iconic blue box logo. However, do not be alarmed if the blue box is turned red for their seasonal campaign, its original colour will come back after the holidays.
Copyright © 2019 FashionNetwork.com All rights reserved.