Forever 21 to open January 28th at Vélizy 2 in France
On the 28th of this coming January, the American fast fashion brand Forever 21 will open its first store in France at the Vélizy 2 shopping center.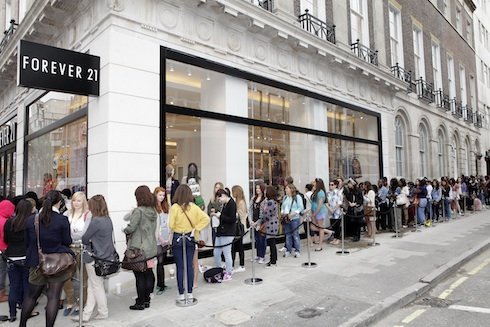 The Oxford street shop in London
This opening is part of a major expansion for Forever 21 outside the Americas. In addition to Korea and Japan, the company is quickly growing in Europe. It already has a European presence with three stores in Great Britain (in Birmingham, London, on Oxford Street and Stratford), as well as six on the mainland (two in Vienna, Austria, and stores in Brussels, Antwerp, Dublin and Barcelona). In France, the brand's presence is expected in other Unibail-Rodamco centers, such as the rue de Rivoli in front of the Samaritaine. This has not been confirmed however.
The Vélizy 2 location will span more than 2000 square meters. Like the rest of the brand's stores, it will offer many new products at low prices every day. Overall, the company now has over 460 stores divided between the United States, Puerto Rico, Canada, Korea, Japan and--for several seasons now--Europe. Its sales revenues amount to approximately $3 billion.
Copyright © 2023 FashionNetwork.com All rights reserved.