Ferragamo targets Asia's charitable rich in downturn
By Miral Fahmy

SINGAPORE (Reuters Life!) - Italian luxury goods group Salvatore Ferragamo has designed a limited collection to raise funds for breast cancer groups, targeting wealthy -- and charitable -- Asians who appear immune to the economic downturn.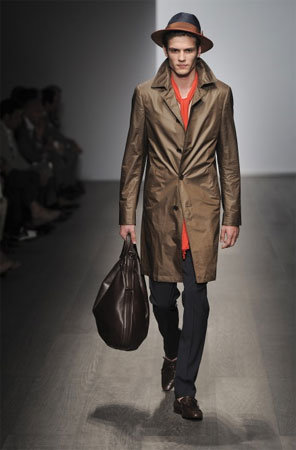 Salvatore Ferragamo mens spring-summer 2010 - Photo: PixelFormula
The Pink Collection will go on sale in October, designated in several countries as breast cancer awareness month, at selected Ferragamo boutiques in Hong Kong, China, Taiwan, Korea, Singapore, India and Australia.
"Asia is waking up from last year's financial disaster much faster than Europe or the United States," Michelle Ng, regional managing director for Ferragamo, told Reuters.
"Right now, we're seeing better performance and sales in Asia than anywhere else, due to the new wealth in the region and also the growing middle class which aspires to buy designer goods."
Asia accounts for nearly half of the company's global turnover.
Luxury goods have largely fallen out of favor during the global economic crisis, but Asia has proven to be a bright spot for retailers, as many of the region's economies, and shoppers' appetite, were not so badly affected.
Ng cited research showing that up to 40 percent of purchases of luxury goods in Europe were done by Asian visitors. The Florence-based Ferragamo is looking to emerging markets such as China and Latin America for expansion, with China set to become its second biggest market after the United States.
Valeria Azario, Asia-Pacific regional marketing director, said Ferragamo has been involved in raising funds and awareness for breast cancer for years: Fiamma Ferragamo, the daughter of founder Salvatore died of the disease in 1998, aged 57.
"But this is the first time we have designed a special collection for breast cancer, and we're launching it in Asia because it's the place where business is growing," she added.
The collection includes a pink, crystal-embellished edition of Ferragamo's signature ballerina shoe as well as a perfume, a watch, a T-shirt and a canvas tote, with prices ranging from 360 Singapore dollars ($256) to 1,500 Singapore dollars.
At least 10 percent of sales will go to breast cancer charities and foundations in the selected countries, Ng said.
Also on offer are a pair of bespoke pink satin sandals and a matching evening clutch which will be auctioned off for charity, with bids starting at 6,000 Singapore dollars.
The company was founded in the 1920s by the late Salvatore Ferragamo who started out designing footwear. Its net profit fell 17 percent to 39 million euros ($57.43 million) last year, while revenues were stable, amid growth in Asia Pacific, at 691 million euros.
($1=1.409 Singapore Dollar)
($1=.6791 Euro)
(Editing by Tomasz Janowski)
© Thomson Reuters 2023 All rights reserved.