Ferragamo sees recovery signs, crisis ongoing
By Marie-Louise Gumuchian and Cristina Carlevaro
MILAN (Reuters) - Italian luxury goods group Salvatore Ferragamo saw signs of recovery in the last few months, but it is still difficult to say the global crisis is over, CEO Michele Norsa said in an interview on Tuesday 8 September.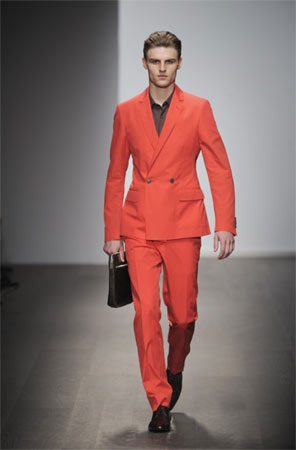 Salvatore Ferragamo Spring-Summer 2010 in Milan - Photo: PixelFormula
The Florence-based company, known for its shoes, bags and scarves, meanwhile is looking to emerging markets like China and Latin America for expansion, and Norsa said China could soon become its second biggest market after the United States.
"Probably after (the anniversary of the collapse of Lehman) there will start to be better comparables but you cannot say the crisis is over for mature markets. You can start to see an exit phase, but it's difficult," he told Reuters.
Norsa was referring to the September 15 first anniversary of the collapse of Lehman Brothers, which pushed the global financial crisis into overdrive.
"I am prudent in saying there are signals," he said of the luxury market, which has seen demand slow as the rich have become more selective in their spending.
Norsa said Ferragamo would open between 20 and 30 sale points this year -- most in Asia -- versus 49 last year.
"Asia represents at least 50 percent and China almost a third," of these openings, Norsa said, adding there was still no indication of how many shops Ferragamo would open next year. He said no closures were foreseen for now even if there were less-profitable shops.
Like fellow fashion group Prada, Ferragamo has postponed a market listing due to turbulent markets. The company, for whom Claudia Schiffer has modelled, was founded in the 1920s by the late Salvatore Ferragamo who started out designing footwear.
"For sure the market is not offering any interesting opportunities today, a decision will be taken depending on how the market performs," Norsa said.
WIDER RANGE OF PRODUCTS
Ferragamo saw net profit fall 17 percent to 39 million euros (34 million pounds) last year, while revenues were stable -- amid growth in Asia Pacific -- at 691 million euros.
Asia represents nearly 50 percent of Ferragamo's global turnover.
"Asia for sure has a growth capacity that is more consistent and much faster," Norsa said. "I wouldn't be surprised if it reaches 50 or more than 50 percent in 2010."
The United States is Ferragamo's top market, followed by Japan with China in third place "but it is nearing second place," Norsa said.
As the crisis saps demand for expensive handbags and shoes, Norsa said Ferragamo, like other luxury players, was offering a wider range of products at the lower end of its price range.
"Luxury brands are tending to widen out what they are offering a little. What is on offer is being widened out to price ranges that are considered more accessible," he said
"The crisis has led to less night life -- parties, events so there are more 'day' products on offer."
Ferragamo is trying to entice consumers in the crisis through events like fashion shows, reducing media advertising spending.
It is also breaking out into e-commerce, launching its own dedicated site for online sales in European countries.
"It will be inaugurated at the end of this month and will be enlarged month after month," Norsa said.
Ferragamo is designing the interior of penthouses in Dubai as part of a project to be completed in 2012. But there are no plans for a homeware line for now, Norsa said.
(Editing by Hans Peters)
© Thomson Reuters 2022 All rights reserved.