Ferragamo may delay IPO if markets unstable
June 9 - Market volatility could force luxury goods maker Salvatore Ferragamo to delay plans for its upcoming initial share offering on the Milan bourse, a source close to the banks managing the deal said.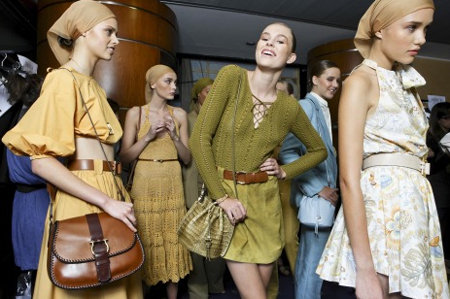 Models backstage at Ferragamo's S/S 2011 catwalk during Milan Fashion Week (Photo: Pixel Formula)
Swiss-Italian biotech group Philogen, autoparts distributor Rhiag and upscale outerwear maker Moncler have all shelved their Milan IPO plans this year to steer clear of potentially rocky markets for European flotations.
"If markets were extremely volatile and nervous, the same banks could advise a better timing, maybe in September, October," the source told reporters on the sidelines of a conference on Wednesday.
The source spoke on condition of anonymity.
The Tuscan maker of fine leather shoes and bags, which analysts said could be worth between 1.1 billion euro (982.12 million pounds) and 1.5 billion euros, could join Milan fashion house Prada as they turn to stock markets to fund expansion in fast-growing emerging markets.
"Let's hope to ride the Prada wave, which seems to be going well," the source said.
Family-run Ferragamo applied to list on the Milan bourse in April. It has not given a timeline for its offering nor disclosed details of how much it wants to sell.
The company is waiting for a final go-ahead from market regulator Consob, after receiving clearance from the stock exchange. The roadshow for investors could start as early as June 13 pending the regulator's approval, media reports said.
Ferragamo could be valued in line with top peers LVMH , Tod's and Burberry, according to research from one of the underwriters seen by Reuters.
Italy's Mediobanca and U.S. investment bank JP Morgan are global coordinators and joint bookrunners for the planned offering.
Prada's IPO, which has been valued at up to $2.6 billion at a premium to its European peers, is slated to be priced on the Hong Kong stock exchange on June 17, with listing set for June 24.
(Reporting by Elisa Anzolin, Editing by Gary Hill)
© Thomson Reuters 2022 All rights reserved.