Feiyue puts its international structure into place
Feiyue has been given a new lease of life thanks to the international development strategy that it has put into place. The French brand – originally from China – is presenting its spring-summer 2013 collections at the trade fairs, and it's approaching its international clients with a stronger structure in place. In the wake of Mathieu Soulié – former sales director at Nike – being appointed as director of exports, the company is preparing to develop its presence on the international markets.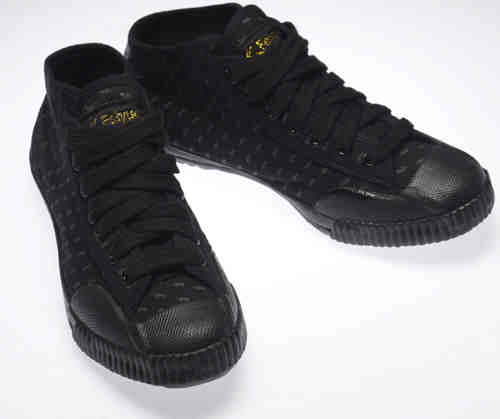 Feiyue's 2008 collection
"We've hired a sales representative in Germany, who'll be at Bread & Butter with us", explained Mathieu Soulié. "And we've just signed a contract with another for Canada. Our five priority markets are those two countries, along with the USA, Great Britain and Italy. We want to find agents and take charge of our development on those markets".
The brand is now setting up projects within these countries. In the USA, it is working with Gap on a collaboration for its two denim 1969 stores, in Los Angeles and New York. It is also planning on launching a peripatetic pop-up store to follow the music festivals around – a strategy which has already been successful for them in South Africa.
So successful, in fact, that the brand is considering creating a subsidiary in South Africa, with a distributor on the territory – as, in addition to its five target markets, Feiyue wants to expand its network on a global scale.
"We are in discussions concerning our distribution in Australia", explained Mathieu Soulié. "We are taking on an agent in Mexico and we're testing another in Poland. Our aim is to really focus on the autumn-winter 2013/2014 collection and in the long-term to expand into China. We have an advantage in that market, which every single brand is trying to infiltrate – Feiyue was founded in China 70 years ago: we have a real story to tell".
Feiyue is planning to almost double the number of items in its collection to 180 in order to bring these regional developments to fruition. The brand has also said that it has made an effort with its prices. Whilst it's not planning to do away with its premium line, it is going to go back to basics with five classic items, the aim being to maximise its distribution in France and to clearly make its mark on its new markets.
Copyright © 2023 FashionNetwork.com All rights reserved.