Fast Retailing shares fall 10 pct on bleak forecast
TOKYO, Oct 12 (Reuters) - Shares of Fast Retailing (9983.T) tumbled nearly 10 percent on Tuesday after the operator of the Uniqlo discount clothing chain forecast its first profit fall in four years, shaking investor confidence in one of the few Japanese retailers thought to have strong growth prospects.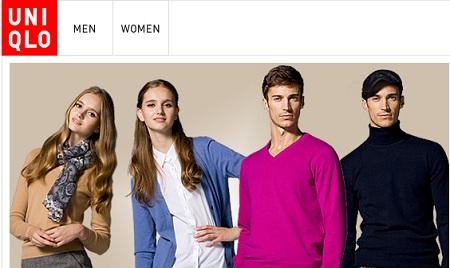 Uniqlo A/W 2010
Sales at Uniqlo have stumbled this year following a boom in 2009, when it was able to buck a downturn in the Japanese economy with its line-up of relatively inexpensive clothing and novel items such as heat-trapping underwear.
The company's forecast on Friday of a 14 percent drop in profit in the year to Aug. 2011 was far worse than the market had expected, prompting investors to rethink the premium they have afforded Fast Retailing's shares.
"The dwindling stock price shows that the market is no longer anticipating its growth will outperform a lot within the retail sector," said Mitsushige Akino, Chief Fund Manager at Ichiyoshi Investment Management.
"But it is still a good enough company. Their expected growth in overseas markets is still a hope, and the stock will likely start rising again if actual numbers back that up."
Fast Retailing's stock slid 9.8 percent on Tuesday to 11,180 yen, its biggest one day fall in six months and bringing the year-to-date loss to 36 percent.
The stock helped to drag the Nikkei average .N225 to a 2.1 percent loss on the day, while the benchmark is down 11 percent for this year.
Even after Tuesday's tumble, Fast Retailing is trading at 23 times forward earnings, above the 21 times for apparel chain United Arrows Ltd (7606.T). The stock is also at four times its book value, compared with a price-to-book ratio of 1 for Seven & I Holdings (3382.T), Japan's largest retail firm.
Following the earnings announcement, Deutsche Bank cut its price target for the stock by 8 percent to 11,400 yen, while Citigroup Global Markets Japan lowered its target price by 8 percent to 8,900 yen.
RETAILERS LAG
Fast Retailing, which runs 800 Uniqlo stores in Japan and close to 150 overseas, said profits would be depressed by tough global competition, weak consumer spending in Japan, higher costs and a delay in launching its autumn collection.
The company, whose competitors include U.S. retailer Gap Inc (GPS.N) and Swedish fashion giant Hennes & Mauritz (HMb.ST), is looking to expand overseas with the goal of becoming the world's largest clothing retailer within 10 years.
Japan's retail industry, under pressure from a long spell of falling prices that has dampened consumer demand, is one of the key weak spots dragging down the Japanese economy along with a strong yen and patchy overseas growth.
In September, Nomura Securities forecast that the combined profit at big non-financial Japanese firms would rise 57.5 percent this business year, led by manufacturers benefiting from economic growth in overseas markets.
"The companies that rely on domestic demand, especially consumer spending, have been acting like a brake for the past year or more as overall earnings have been increasing gradually," Nomura Securities senior strategist Takashi Ito said.
Some retailers have focused on cost-cutting to deliver profits.
Last week, Japan's second-largest retailer, Aeon Co Ltd (8267.T), raised its full-year forecast above market expectations after bumper summer sales and cost-cutting drove a 50 percent surge in profit for the June-August quarter.
Seven & I reported a more modest profit rise of 12 percent for the quarter and kept its full-year forecast unchanged due to weakness at its large retail outlets.
Ryohin Keikaku Co (7453.T), which runs the Muji clothing and household goods chain, cut its annual operating profit forecast on Friday by 11 percent, citing sluggish consumer demand.
Ryohin Keikaku's shares jumped 5.8 percent on Tuesday, however, after it announced a plan to buy back its stock and Goldman Sachs raised its investment rating on the retailer to "neutral" from "sell" following a recent slide in the stock.
($1=82.05 Yen) (Reporting by Nobuhiro Kubo, Sachi Izumi, James Topham; Editing by Nathan Layne and Edmund Klamann)
© Thomson Reuters 2022 All rights reserved.