Falic Fashion Group among potential bidders for Castelbajac
The identity of three interested investors has been revealed regarding the sale of French fashion house, Castelbajac, following a series of events including facing liquidation and being put on sale by its owner company, Sixth AP Fund Swedish funds investor. The French commercial court of Paris is studying each bid and will decide before the end of Summer.

Falic Fashion Group :

The group offers to take over indebted Castelbajac via its own brand Christian Lacroix. Their plan consists in placing Castelbajac and Lacroix under one unique holding, which would be managed by Nicolas Topiol. The business model would be identical for both companies: The name Jean-Charles de Castelbajac would become a sole licensor. Christian Lacroix offers to integrate twelve employees within their own structure which currently employs twenty. However, a previous agreement set up in 2004, in which Jean-Charles de Castelbajac himself is tied to the eponymous company as a consultant would no longer exist if this deal goes through.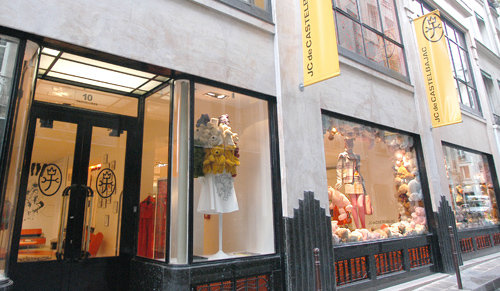 Jean-Charles de Castelbajac's flagship store located on la rue Vauvilliers is not evoked by any of the candidates in their business plans put forward.
EXR :
Castelbajac's distributor in Korea for the past decade has put forward a business plan in which the majority of the employees will be integrated, the activity will be maintained as is in France, with the exception of closing down its Parisian stores (Rue des Saint-Pères and rue Vauvilliers).
Dominique Bergin :

The entrepreneur Dominique Bergin, owner of bicycle and ski specialist brand Look, has collaborated with Jean-Charles de Castelbajac since 2009. Together they have worked on creating collections for Rossignol. Mr Bergin argues to the Parisian tribunal that optimising licenses of the brand will make his business plan successful, as it was for the perfumes launched under the name
Castelbajac
. He promises to integrate a dozen or so of employees and to keep open both Parisian stores. His proposal seems to offer Jean-Charles de Castelbajac more interesting leverage as to his implication in the future of the business.
Copyright © 2023 FashionNetwork.com All rights reserved.