Facebook Retail Therapy Game Launched
SAN FRANCISCO, CA, Jul 20 (MARKET WIRE) - Sugar Inc. (SugarInc.com), the leading online women's media company, on tuesday announced the launch of its first social online game, called PopSugar's Retail Therapy.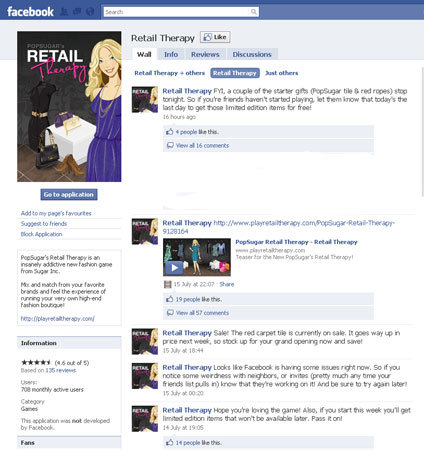 Game on Facebook
Founded in 2006 by wife and husband Lisa and Brian Sugar, Sugar Inc.'s mission has been to entertain and delight its audience by producing insanely addictive content, unmatched shopping experiences, and a robust social community.
Sugar Inc. is a leading international diversified women's media company with an audience of more than 16 million monthly unique visitors across three business segments: original content (PopSugar.com and PopSugar.tv), commerce (ShopStyle.com), and local (FreshGuide.com) with operations in the US, Europe, and Australia.
The game debuts with a host of popular brands, including Banana Republic, Barneys New York, Diane von Furstenberg, Gap, Juicy Couture, Topshop, and Tory Burch.
PopSugar's Retail Therapy allows players to merchandise and design their own fashion boutiques and dress their characters in the hottest styles and brands.
"One of the most compelling aspects of Retail Therapy is that it gives players the opportunity to actively engage with our brand and clothing in a sophisticated and entertaining virtual environment," said Heather Kaminetsky, director of Internet marketing at Barneys New York.
Meredith Fisher, digital media director at Diane von Furstenberg. "We are excited about the ability for players to link to our website directly from the game and purchase their favorite items."
Copyright © 2022 FashionNetwork.com All rights reserved.