Eyes on China: "In 1993, there was mobilization at the highest state level"
Gérard Roudine, consultant and project manager of the Chinese mission to the French Federation of Women's Ready to Wear, has seen the Chic Beijing fair through 20 editions. For him, the transition to two sessions a year seems inevitable.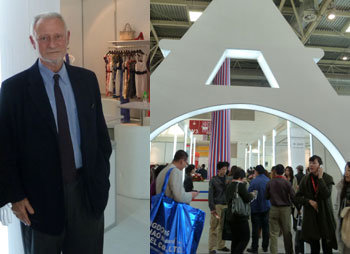 Gérard Roudine on the left, Chic's French pavilion on the right
FashionMag: How do you see China now that the Chic fair is celebrating its twentieth anniversary?
Gérard Roudine
: What a question! When one talks about China, it is hard to generalize. China is a mosaic of markets, a juxtaposition of centers of development that compete and complement each other.
FM: And what about if the question is limited to China in terms of the Chic fair?
GR
: In 1993, it was about twenty exhibitors under the China World Center. The show was in May then. There was mostly mobilization at the highest level. It was the first time a Chinese president (Jiang Zemin at the time) received personalities from the fashion world. Pierre Cardin, Gianfranco Ferré, Valentino, French and Italian ambassadors were all received in the presidential palace. I was there as a delegate of the federation. The authorities have shown their interest in an area which was regarded as mere economic activity and a source of jobs. Subsequently, the event grew and I think 35% of exhibitors are now international (organizers cite 400 brands, ed.)
FM: 20 years; what is the significance of this date?
GR
: That age is always important for an event. Chic is virtually the only fair in China. There is no real competition. Then there is a multitude of smaller and larger regional shows. Chic grew along with the domestic market. It's not a fair for sourcing.
FM: Is one session per year enough?
GR
: There is only one session per year because this rate is related to the type of distribution and to brand policy. Initially, this fair was dedicated to seeking franchise partners to establish a network of single-brand stores. But in recent years the Chinese market has evolved and so have consumer demands. Chic will have to follow this change. A number of companies were present only in the domestic market, a more or less closed space. These have to deal with international competition but also with that of Chinese groups who have decided to address the decline in exports by launching brands in China. All must position themselves clearly on the market.
FM: Has the role of the fair become, thus, more important?
GR
: Yes, absolutely. There will be a demand for multibrands, which we call probably multicorners. This will be a Chinese invention in terms of distribution, in order to meet the needs of consumers. It is therefore logical that Chic should focus on the taking of orders from buyers and then create a second session.
Copyright © 2022 FashionNetwork.com All rights reserved.