Estee Lauder to soon sell Ermenegildo Zegna goods
March 31 - Estee Lauder Cos Inc will soon get the exclusive license to market Ermenegildo Zegna fragrances and grooming products, giving it another luxury brand as it tries to boost sales growth, especially in Asia.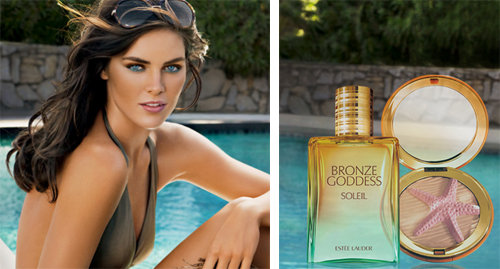 Estee Lauder campaign for 'Bronze Goddess Soleil' fragrance and make up
New York-based Estee Lauder is taking over the license after France's L'Oreal SA and Italy's Ermenegildo Zegna agreed to end their pact nearly two years early.
Estee Lauder said on Thursday it will assume the worldwide license for the Zegna brand on July 1. Terms of the deal were not disclosed.
An existing licensing agreement between L'Oreal's YSL Beaute and Zegna was supposed to end in April 2013, and will instead end on June 30, 2011.
L'Oreal said the move was agreed upon by common consent. YSL Beaute, one of its luxury units, said it wished to focus its men's fragrance business on a number of limited brands, including Giorgio Armani, Ralph Lauren, Yves Saint Laurent and Diesel.
Estee Lauder plans to develop Zegna's existing fragrance business and add a men's grooming business, President and Chief Executive Fabrizio Freda said in a statement.
China is the largest and fastest growing market for Ermenegildo Zegna clothing and accessories, Estee Lauder noted, and China is a market that the cosmetics company has been focusing on for growth as well.
Both Estee Lauder and Zegna also sell a variety of goods in airport stores. Estee Lauder's travel retail business is highly profitable and has been growing quickly as more people travel.
Estee Lauder's shares gained about 6 cents to $95.93 after rising to $96.05 on the New York Stock Exchange.

(Reporting by Jessica Wohl in Chicago, additional reporting by Astrid Wendlandt in Paris; Editing by Derek Caney and Maureen Bavdek)
© Thomson Reuters 2023 All rights reserved.