Elizabeth Hurley opens swimwear boutique
Elizabeth Hurley is continuing her transformation, after having enjoyed the world of cinema the former face of Estée Lauder has opened her first store in London. The boutique, called "Elizabeth Hurley Beach", is entirely dedicated to the world of swimwear and accessories.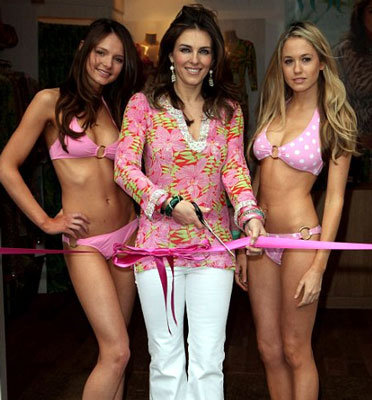 Elizabeth Hurley unveils her new boutique
Situated in Bicester Village, an in-demand shopping centre, this boutique which resembles a beach hut will offer clothes and accessories from around twenty English and international brands. Elizabeth Hurley's own brand will, of course, also be found there.
"I couldn't wait to open the shop, meet my clients and help them to choose the perfect beach outfit", declared Elizabeth Hurley, who worked behind the till for a part of the opening day, a role unlikely to be taken on again anytime soon.
By Jonathan Fulwell (Source: Sarah Ahssen)
Copyright © 2023 FashionNetwork.com All rights reserved.