Elizabeth Arden profit helped by cost cuts
CHICAGO - Elizabeth Arden (RDEN.O) posted a higher-than-expected quarterly profit on Thursday, helped by the weak dollar and cost cuts, and forecast earnings above analysts' expectations for the current fiscal year.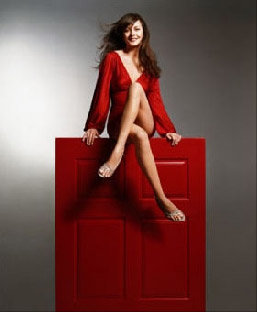 Catherine Zeta Jones sits atop Elizabeth Arden's 'Red Door'
The news sent its shares up more than 12 percent after the stock fell 17 percent earlier in the week.
"The stock is simply recovering from the week," said BMO Capital Markets analyst Connie Maneaty.
Elizabeth Arden has been outsourcing its non-core business activities, including packing and print, as part of a larger cost-cutting move.
Earnings for the maker of skin-care products and a host of celebrity fragrances totaled $5.4 million, or 18 cents a share, compared with $2.3 million, or 8 cents a share, in the same quarter of 2010. Analysts on average forecast 10 cents a share, according to Thomson Reuters I/B/E/S.
Net sales for the fourth quarter were $253.8 million, an increase of 11.2 percent from $228.2 million last year. Excluding the impact of the weak dollar, which boosts the dollar value of sales made overseas, sales rose 7.7 percent.
Elizabeth Arden forecast earnings of $1.90 to $2.00 per share for 2012, and 25 cents to 35 cents for the first quarter. The guidance takes into account favorable currency rates of about 2 percent and strong net sales growth in North America and Europe.
Analysts on average forecast earnings of 26 cents for the first quarter and $1.49 a share for the year.
For fiscal year 2011, gross margin increased by 240 basis points, driven by the 12 percent increase in North American net sales. The company expects an increase of 200 to 225 basis points for fiscal year 2012.
Elizabeth Arden also said it would acquire the trademarks for several fragrance brands from Liz Claiborne Inc (LIZ.N) and lower the effective royalty rate it pays to make other fragrance brands under the Juicy Couture and Lucky Brand names. The company made a $58.4 million payment to Liz Claiborne and the transaction will be reflected in the first quarter of fiscal year 2012. The changes in the licensing agreement should modestly boost earnings in fiscal year 2012, the company said.
The launch and roll-out of the Taylor Swift celebrity fragrance, arriving at prestige North American retailers in October, is a key initiative for fiscal year 2012. The fragrance "has the potential to be something large," said Chairman and Chief Executive E. Scott Beattie during the company conference call.
The company's shares rose 12.2 percent to $29.90 in afternoon trading on Nasdaq.
(Reporting by Eunju Lie; Editing by Derek Caney and Maureen Bavdek)
© Thomson Reuters 2023 All rights reserved.