Elie Saab channels inner sultan at Paris fashion week
Byzantine opulence and splendour worthy of a sultan's harem greeted guests at Elie Saab's fashion show on Wednesday, as the Lebanese designer beloved of the Hollywood set presented a fantasy collection spun from embroidered tulle and lace.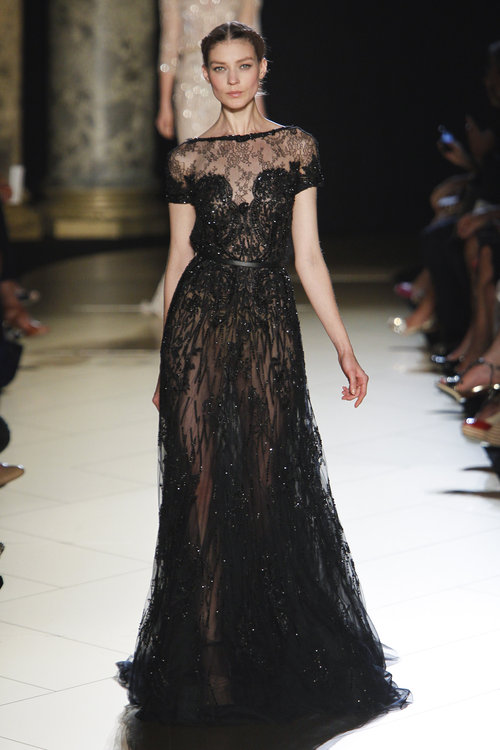 Elie Saab - Haute Couture AW 2012-13 / Photo: Pixel Formula
Saab, who is known for his red carpet creations, said he was inspired by Constantinople for his autumn/winter 2012-2013 Haute Couture collection, and indeed the gold, shimmer and sparkle overflowed in the pillared Paris reception hall on the Rue Cambon.
"As if lifted from a palace along the banks of the Bosporus, Ottoman motifs subtly infuse the collection with imperial splendour," read the collection notes, in a description designed to encourage the well-heeled to open their wallets.
Opening the show was a black tulle caftan dripping with lace, sequin and pearl embroidery guaranteed to ensure a dramatic entrance on either side of the Bosporus.
Another black stunner featured an embroidered bodice and hips and flowing sleeves that draped behind the gown like a train, imparting a regal aspect to the belted look.
With high necklines and elaborate embroidered bodices, many gowns recalled the finery of an Edwardian era predisposed to hedonism and a fantasy-inspired vision of the Orient.
Despite a debut in black, Saab opted for warmer hues of champagne, taupe, rose, sky blue and jade for most of the collection, with a special emphasis on shimmering gold.
"I didn't like to use the colors of winter," explained Saab after the show.
He said that, because of their intricate beads, sequins and embroidery, it takes about six months for his atelier to create an elaborate wedding gown such as the full-skirted one that closed the show.
NO STARLETS PLEASE

The designer played with concepts of weight. While the peek-a-boo lace and light, warm colors of many dresses hinted at the ethereal, the rich embroidery covering the gowns imparted weight and gravitas.
These were not gowns for superficial starlets, and the covered shoulders and arms on most of the evening dresses are sure to sit well with more mature fans of Saab's art.
Still, the ideal wearer of Saab's fashion would be long and lean to highlight the flowing transparent lace and tulle pervasive in a collection with the occasional exposed back.
Saab's gowns have been regulars on the red carpet since 2002, when the designer was thrust into the limelight after Halle Berry accepted an Oscar award wearing his burgundy gown with a full skirt and see-through top.
He has been showing couture collections in Paris for about a decade.
Always a sharp marketer, Saab air-kissed his guests after the show in front of a backdrop emblazoned with his name as a crush of cameras clicked away.
(Reporting By Alexandria Sage, editing by Paul Casciato)
© Thomson Reuters 2023 All rights reserved.