Eddie Bauer lenders aim to liquidate stores
July 15 (Reuters) - Bankrupt outdoor clothing retailer Eddie Bauer Holdings Inc's (EBHIQ.PK) two key creditors are looking to liquidate its stores and cash in on the brand in a string of licensing deals, The New York Post reported.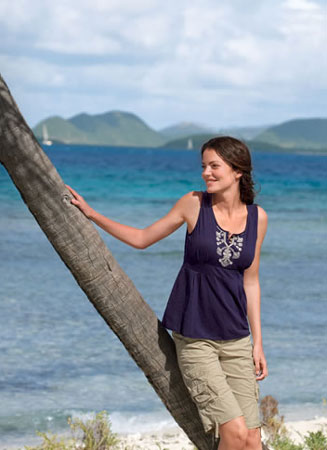 Eddie Bauer summer 2009
Monarch Alternative Capital and Anchorage Advisors -- a pair of New York hedge funds that together control Eddie Bauer's $200 million in debt -- aim to convert Eddie Bauer into a Web-based business to sell outdoor clothing and other licensed products, the paper said, citing sources.
According to the paper an alliance is likely with Hilco Consumer Capital and Gordon Brothers -- a pair of private-equity firms that recently scooped up brands including Polaroid, Ellen Tracy and Sharper Image.
Hilco and Gordon Brothers recently partnered with Monarch to buy the intellectual property of Linens 'n Things, using the brand of the defunct retailer to sell housewares online, the daily said.
As creditors Monarch and Anchorage could enjoy significant advantages over rival bidders, the paper said.
In addition to the power to object to rival bids, Monarch and Anchorage were likely to be able to pledge their debt holdings at face value, it added.
Eddie Bauer, which filed for Chapter 11 protection last month, has about 370 stores in North America and about 10,000 employees worldwide.
No one at Eddie Bauer, Monarch Alternative Capital, Anchorage Advisors, Hilco Consumer Capital or Gordon Brothers could immediately be reached for comment by Reuters. (Reporting by Hezron Selvi in Bangalore; Editing by Greg Mahlich)
© Thomson Reuters 2022 All rights reserved.