eBay outlook falls short, shares drop
By Alexandria Sage
SAN FRANCISCO (Reuters) - EBay Inc (EBAY.O) forecast results for the rest of the year that fell short of Wall Street expectations for a faster turnaround as the economy improves, sending its shares down more than 8 percent.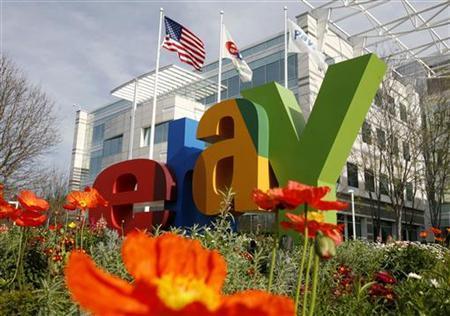 EBay is in the second year of a 3-year restructuring designed to revive its marketplaces unit, whose growth has paled in comparison with that of its Web payments unit PayPal.
Measures to make the buying and selling marketplaces site more customer-friendly -- from lower upfront listing fees to better consumer service and a focus on "buy now" items -- has resulted in more buyers and more transactions.
But investor optimism over the pace of its turnaround has outpaced actual results.
BGC Partners analyst Colin Gillis called the second-quarter outlook "lackluster" and said eBay would have needed to raise its full-year forecast to keep investors bullish.
"The expectations for a monster quarter are not materializing," he said.
"It is a company that is still in turnaround," UBS analyst Brian Pitz said. "Given that e-commerce trends seem to be favorable, the Street probably was expecting more of a beat than they actually delivered."
EBay stood by its previous full-year earnings outlook for revenue of $8.8 billion to $9.1 billion and adjusted earnings of $1.63 to $1.68 per share. That compares with the average Wall Street view for revenue of $9.1 billion and EPS of $1.67.
EBay Chief Financial Officer Bob Swan said the company was not raising its full-year view because improved results would be offset by the negative effects of a stronger U.S. dollar.
For the second quarter eBay estimated revenue of $2.15 billion to $2.2 billion and adjusted earnings of 37 cents to 39 cents per share. Analysts were looking for revenue of $2.2 billion and EPS of 40 cents.
BACK-END FEES
Net profit in the e-commerce company's first quarter rose to $398 million, or 30 cents per share, from $357 million, or 28 cents per share, a year earlier.
On an adjusted basis, earnings were 42 cents per share. Analysts, on average, had been expecting earnings of 41 cents per share, according to Thomson Reuters I/B/E/S.
Revenue rose 9 percent to $2.2 billion, in line with estimates. U.S. revenue was up 4 percent while international revenue jumped 13 percent.
Excluding the Skype Web telephone unit, which eBay sold last fall, revenue rose 18 percent.
EBay has been trying to lure in more buyers to its main marketplace site, which faces intense competition from online retailers like Amazon.com (AMZN.O).
It has rolled out mobile applications for popular devices like Apple Inc's (AAPL.O) iPhone and iPad to spur shopping on the go, and is trying to make certain categories on its site, like fashion, easier to use and more visually appealing.
Chief Executive John Donahoe said eBay expects to generate more than $5 billion in gross merchandise volume from clothes, shoes and accessories.
The company has also tinkered with its pricing levels to lower upfront fees for sellers, which encourages more of them to post items on its site.
"It's too early to assess the impact of these changes," said Donahoe. "We believe these changes in the U.S. will have the same positive impact they've had in Europe."
But those changes make it harder to assess eBay's revenue projections, said Gillis, since it becomes more backloaded as a greater proportion of payments to the company are recorded after a sale.
"They have less visibility as to what the quarter looks like because they're changing the revenue model for marketplaces," Gillis said.
The moves come as eBay strives to shed its consumer image as an online auctioneer. Fixed-price listings are now the norm on eBay, due to consumer demand, and the company now has deals with large retailers looking to shed excess inventory.
A 26 percent revenue rise from eBay's payments unit, which includes PayPal, and a benefit from currency exchange rates also helped results, eBay said.
In its marketplaces unit, revenue rose 13 percent. Gross merchandise volume, excluding vehicles, grew 24 percent in the quarter, a sharp contrast to the 16 percent drop in the year-ago quarter.
Shares of eBay fell to $24 in extended trade, after closing at $26.29 on Nasdaq.
(Reporting by Alexandria Sage; Editing by Richard Chang)
© Thomson Reuters 2023 All rights reserved.