Douglas counts on German market to meet year target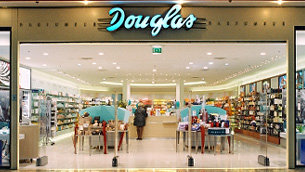 Douglas
By Eva Kuehnen
FRANKFURT, May 11 (Reuters) - German perfumes-to-books retailer Douglas (DOHG.DE) said it expected to meet full-year targets, helped by a solid performance in its home market, although the outlook for some foreign markets remained tough.
Douglas, buoyed by better-than-expected second-quarter results, said it now expected 2009-10 revenue and earnings before tax at the upper end of its forecast ranges -- 0-2 percent for sales and 120-130 million euros ($161-$174 million).
"Even though rough waters lie ahead in some foreign markets, we remain confident that we will reach the targets set for this fiscal year," Chief Executive Henning Kreke said.
Business in the Baltic States, Spain, Hungary and Poland remained tough as a result of the global economic downturn and Douglas is withdrawing from some markets. It plans to close about 50 underperforming stores this fiscal year, it said.
Kreke had told a newspaper over the weekend Douglas was withdrawing from the Danish market.
Hamburg-based fashion jeweler Bijou Brigitte (BIJG.DE) on Monday 10 May reported a drop in first-quarter sales mainly due to a weak performance in Spain, which was hard hit by the real estate and financial crisis.
Business in Germany grew, Douglas said, and pointed in particular to its perfumery stores. Consumption in Europe's largest economy has held up well during the crisis also thanks to government support measures that avoided mass layoffs.
The Easter holidays in early April also lifted second-quarter sales at Douglas's perfumeries and its Hussel confectionery shops, it said.
Douglas's second-quarter loss before tax narrowed to 5.4 million euros, better than the average estimate for a loss of 8 million euros in a Reuters poll of analysts. Sales rose 7.8 percent to 706.5 million euros, beating estimates.
Douglas shares fell 1.6 percent to 33.25 euros by 0804 GMT, while Germany's mid-cap index .MDAXI was broadly unchanged.
The shares trade at about 14.5 times 12-month forward earnings, at a discount to glasses and contact lens retailer Fielmann (FIEG.DE), which trades at a multiple of about 18.4, according to Thomson Reuters StarMine.
StarMine weights analyst estimates according to their track record. ($1=0.7453 euro) (Editing by Simon Jessop)
© Thomson Reuters 2023 All rights reserved.