Dorothée Bis comes back to Paris
Incontrovertible in fashion the 70s, the brand Dorothée Bis is coming back to its roots after almost fifty years. From the beginning of September it can be found in a new Parisian boutique at 81 Rue de Sèvres; a Parisian address that will be equal parts flashback and comeback.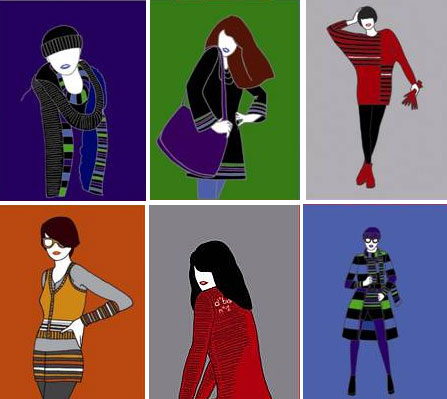 Designs from the autumn-winter collection 2009/2010 from Dorothée Bis
Dorothée Bis was born from the pencil strokes of Jacqueline and Elie Jacobson and was most recently in the news when it was taken over by the BCBG Max Azria group in 2003, the owning group of the eponymous brand, Manoukian, Hervé Leger, Dorotennis and Max Azria. In the 60s and 70s, at the height of its glory, the couple and brand epitomized the "Saint-Germain-des-Près spirit" of Parisian fashion with their clothes. Slip on woolen dresses, striped items, coloured jackets, the off-the-peg line from Dorothée Bis spawned an oft copied style.
With the upcoming autumn/winter collection presented in the boutique, the new team is hoping to display their inheritance of this legacy. The brand has announced the re-release of vintage items such as kimono dresses, woolen one pieces and patterned coats and further personalized items. Furthermore, a part of the collection will be available in Dorotennis boutiques.
By Jonathan Fulwell (Source: Emilie-Alice Fabrizi)
Copyright © 2023 FashionNetwork.com All rights reserved.