Dolce & Gabbana to part ways with Selfridges
(Reuters Life!) - Italian fashion house Dolce & Gabbana will stop the distribution of its two main lines at London shopping temple Selfridges after reports of a dispute over space in the department store chain, the designers said on Thursday.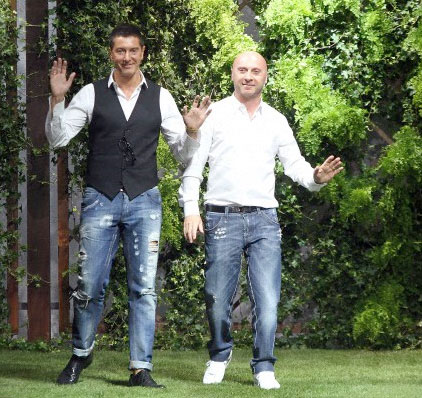 Stefano Gabbana and Domenico Dolce wave goodbye at the end of their D&G show for Milan Fashion Week, June 2010. Photo : Corbis
The announcement followed reports in the British media last month of a "row" between the glamorous fashion duo -- Domenico Dolce and Stefano Gabbana -- and Selfridges over in-store positions.
"Given the unavailability in Selfridges stores of ideal spaces which could fit with Dolce & Gabbana and D&G brands levels and expectations, the Group decided to discontinue the distribution of both brands' collections through the department store," the fashion duo said in a statement.
"This decision is consistent with the group's constant work to always ensure the best expression of brand and to preserve its image."
British fashion magazine Drapers has reported that Selfridges, one of the world's leading department stores, would no longer stock premium brand Dolce & Gabbana nor its D&G brand from spring 2011 in order to "refresh its brand mix."
Selfridges was not immediately reachable for comment.
The department store chain, bought by Canadian businessman Galen Weston in 2003, had sales up 6 percent to 809 million pounds ($1.25 billion) in the year ended in January 2009, according to Selfridge's website.
Dolce & Gabbana, who have recently renewed their partnership with pop icon Madonna, reported a 13.5 percent drop in wholesale sales to 1.379 billion euros in the fiscal year ended in March, as the downturn took its toll on the demand for luxury items.
(Reporting by Antonella Ciancio, Editing by Paul Casciato)
© Thomson Reuters 2022 All rights reserved.