Dita von Teese back at Paris revue
By James Mackenzie
PARIS (Reuters) - Dita von Teese, the raven-haired reincarnation of striptease artistes from 1940s America, is returning to one of the most famous nude revues in Paris, happy to be back in a city with a respect for her craft.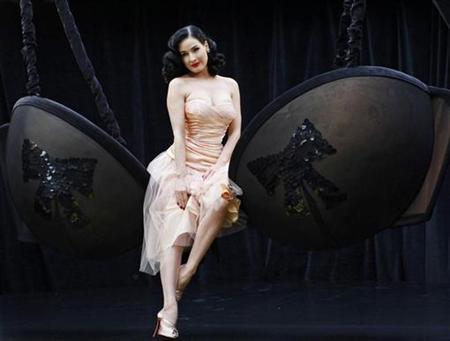 "I feel that Paris is a place that still appreciates its showgirls," she told Reuters in an interview before a two-week run at the celebrated Crazy Horse theater from February 1.
Von Teese, a familiar figure at the Paris couture shows, has carved a peculiar niche over the years, leading the way as burlesque has grown from simple striptease to becoming an established part of the fashion world.
Two years ago she emerged from a rhinestone-encrusted bubblebath as the first guest star at the Crazy Horse but the new show will have more specially designed numbers, including two songs she has recorded herself.
"I feel I have to raise the bar," she said.
The Crazy Horse has been a Paris institution since 1951, regularly drawing celebrities like Madonna or fashion designer Jean-Paul Gaultier to see its dancers strut the stage in little more than fluorescent wigs and strobe lights.
"I've always had a real fascination with the Crazy Horse ever since I was a teenager and I found a picture of this line of nearly nude toy soldiers standing at attention," she said, referring to the trademark parade that opens the nightly show.
"I wanted to do something more elaborate this time," she said. "Combine the Crazy Horse style with what I do which is classic American burlesque."
VINTAGE
Inspired by the venerable names of stripping and pinup such as Gypsy Rose Lee and Bettie Page, she has an almost scholarly interest in the era of the 1930s and 1940s when the renowned Minsky's Burlesque ruled on Broadway.
In person, a pale and softly spoken woman in an elegant green frock and carefully coiffed hair, Von Teese, born Heather Sweet, might have stepped from the pages of an old Life Magazine pictorial.
"Everything I do professionally comes from what my hobbies were, which was dressing in vintage clothes, driving in vintage cars, listening to retro music and reading about burlesque stars," she said.
The distinctive look, which she maintains even when not performing, has always made her stand out but she said the attention had been a help in her stage life.
"I was so shy in other ways but I was never shy about that," she said. "For people to be looking at me because I was wearing an unusual hat or a strange dress and looking like I stepped off a movie set -- I've been used to that for my entire adult life."
She has managed a delicate transition, taking on a glamorous allure that has elevated her from the gyrating ranks of laptop dancers but she says her style has actually changed little since she started almost 20 years ago.
"I started performing burlesque in 1991 and originally my audience was in strip clubs, pole dancing clubs, fetish clubs and I've watched the way it changed," she said, reclining in the armchair of a luxurious Paris hotel.
"I've been doing the same show all along but why has it become more fashionable? It's interesting because I'm not the one that's changed."
(Editing by Paul Casciato)
© Thomson Reuters 2023 All rights reserved.