Dior museum celebrates dandies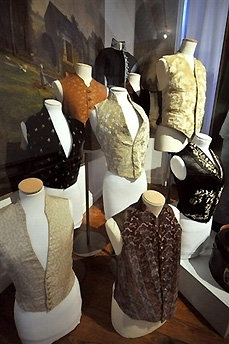 The exhibition spans two centuries of dandies, marking the bicentenary of the birth of Jules Barbey D'Aurevilley, also a native of Normandy, who wrote a definitive treatise on dandyism - Photo : Mychele Daniau/AFP
GRANVILLE, France, May 4, 2008 (AFP) - Legendary dandy Oscar Wilde once declared "One should either be a work of art or wear a work of art," a sentiment endorsed by designer Christian Dior, who acknowledged dandyism as a significant influence on his fashion.
The Dior family home, now a museum, on the Normandy coast at Granville, this week opened an exhibition celebrating dandyism in all its manifestations that will last through the summer.
One of the star exhibits is a white shirt belonging to Wilde, dating from when he was living in penniless exile in a seedy Paris hotel after his disgrace, under an assumed name which was a cryptic allusion to his homosexuality.
Lent by his only grandson, biographer Christopher Holland, it was one of the items of clothing he wore up to his death, when he famously remarked that he was also "dying beyond my means".
The exhibition spans two centuries of dandies, marking the bicentenary of the birth of Jules Barbey D'Aurevilley, also a native of Normandy, who wrote a definitive treatise on dandyism.
Dior was a great admirer of D'Aurevilley, crediting him with inspiring him to incorporate elements of masculine elegance in his designs for women, the beginnings of androgyny. There is a photo of Dior dressed as D'Aurevilley for the famous masked "Bal des Artistes" in 1956, which current Dior chief designer John Galliano chose as his theme for his haute couture show marking the house's 60th anniversary last year.
Dior's costume was based on the most authoritative portrait of D'Aurevilley by Emile Levy (1881), which shows him as an imposing moustachioed figure with a lace-trimmed cravat. In a display case by the painting is an almost identical cravat and a pair of natty red-embroidered white gloves from his wardrobe and a pair of his boots, the veritable badge of a dandy.
D'Aurevilley retained his wasp-waisted figure into his eighties, leading some to suspect he wore a corset.
Another famous dandy represented in the exhibition is Conte Robert de Montesquieu, who inspired the character of Saint Loup in Proust's "In search of lost time". A contemporary lady diarist remarked upon his almond green or sky blue suits, white velvet waistcoats, the iridescent linings of his jackets and his well-gloved hand. He was the very embodiment of Saint Loup's assertion that "it is impossible to cut a dandy figure without being tall, slender and handsome."
The less-trim novelist Honore de Balzac too had dandy pretensions, and the museum has managed to borrow his famous turquoise topped walking stick, which he was never seen without.
But some of the most fascinating exhibits belonged to anonymous dandies, covering all the male accoutrements needed to dress to impress: waistcoats in embroidered satin and velvet with enamel or gilt buttons, silk kimono dressing gowns, hats in their boxes, monocles and even a folding fan. There is an array of walking sticks with different tops from a parrot to a greyhound head and an ivory fist clenching a ball.
There is even a patent gadget to fix a drooping moustache: a strip of sticky paper which if left on for a few minutes, the maker promises, will persuade the ends to stay turned upward.
Representing 21st century dandies, Galliano contributed a tartan mohair riding coat with a swashbuckling Napoleon hat, and veteran rocker David Bowie the jacket from a black suit designed by Hedi Slimane for Dior mens-wear which he wore when he played the Olympia in Paris in 2002, teamed with a casual white T-shirt.
Alexis Mabille, who collaborated for nine years with Galliano, has a whole display case to himself for his re-invention of that dandy classic, the bow tie. His modern take includes versions in fake leopard, raffia, leather or such unexpected combinations as artificial violets on silk twill, or pearls entwined round black corduroy. Given eclectic names like "picnic" or "midnight", they can also be worn at the waist or in the hair.
Dior's choice of the black and white dogstooth check for the packaging of his "Miss Dior" perfume and the 1966 launch of his "Eau Sauvage", the first unisex perfume, also owed a lot to dandyism.
The feminine floral note in "Eau Sauvage" was a decisive break with the bracing colognes for men that had prevailed since Napoleon.
For fashionistas, the exhibition also boasts a wide cross-section of Dior creations for women adopting aspects of male style, from the 1948 New Look through Marc Bohan's 1983 single-button black tuxedo jacket with wide white lapels, to the flamboyant and extravagant designs of Galliano for the house today.
"Dandysmes, 1808-2008" runs from May 1 to September 30 at Les Rhumbs, Musee Christian Dior, Granville.by Sarah Shard
Copyright © 2023 AFP. All rights reserved. All information displayed in this section (dispatches, photographs, logos) are protected by intellectual property rights owned by Agence France-Presse. As a consequence you may not copy, reproduce, modify, transmit, publish, display or in any way commercially exploit any of the contents of this section without the prior written consent of Agence France-Presses.