Dior hits the Paris catwalk without John Galliano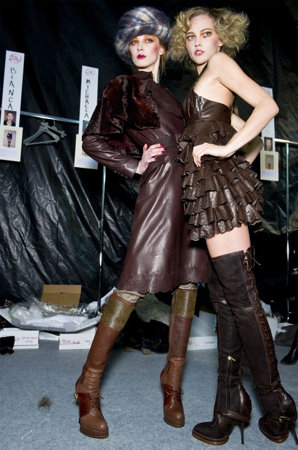 Photo taken backstage at a Dior catwalk in last year's Paris Fashion Week, presenting its A/W 2010-11 collection (by Pixel Formula)
Mar 4 - Christian Dior will on Friday become the biggest fashion brand in recent history to present a catwalk collection at Paris Fashion Week without a star designer to applaud.
Dior -- the jewel in the couture crown of the world's biggest luxury group LVMH -- fired chief designer John Galliano three days ago for making anti-Semitic comments in a video where he expressed admiration for Adolf Hitler.
Cancelling the runway presentation would have meant the loss of an entire collection in which the company had invested heavily as well as the loss of a season's worth of orders from buyers sent by retail outlets from around the world.
While Dior was quick to part ways with Galliano after 15 years at the top of one of the world's best known fashion labels, industry experts did not expect the couture house to announce the British designer's replacement on Friday.
Possible successors at Dior that have been mooted include Riccardo Tisci, designer at Givenchy, Dior's sister brand within the LVMH group.
In Galliano's absence, Dior's design team is expected to bow at the end of the show to whomever it is that turns up.
Fashionistas said they would pay close attention to whether the event would be attended by the usual group of celebrities such as French actress Marion Cotillard, who has been the face of Dior, or LVMH head Bernard Arnault.
Arnault, who founded LVMH, usually attends the Dior show.
The show for John Galliano's own label on Sunday afternoon in the gardens of the Rodin museum will also go forward but it has been downsized to a presentation, a spokesman said.
It was not clear what will happen to the John Galliano brand as it cannot survive without Dior's financial backing. Dior owns 92 percent of the brand whose wares are sold mainly in department stores and multi-brand stores.
It has only one directly operated boutique in Paris.
Some fashion editors and buyers this week said they planned to boycott the John Galliano show.
Galliano also faces trial over accusations he made racist remarks in public last week and in October. He has apologised and left Paris.
"He is no longer in Paris and he is being looked after," a spokesman for his John Galliano label said on Friday.
(Editing by Paul Casciato)
© Thomson Reuters 2022 All rights reserved.