Diane von Furstenberg now offers cosmetics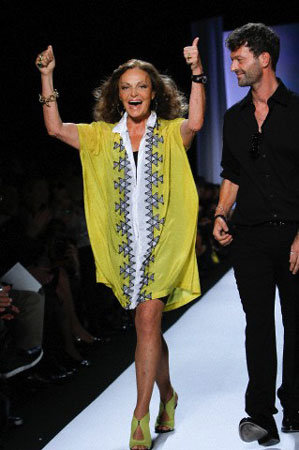 Diane von Fürstenberg
MADRID, 11 (EUROPA PRESS)-The designer Diane von Furstenberg has announced she will release her first line of beauty products. In collaboration with the ID Beauty giant and the former president of beauty products from Yves Saint Laurent, Chantal Roos. Diane will present before the end of the year her first perfume. Her cosmetics line will be released in early 2011.
The designer, who is in her 70's is launching a perfume and makeup line in her own name, she says, delighted to be working on this project particularly in collaboration with Chantal Roos, former president of Yves Saint Laurent Beauty, who is designing all the products hand-in-hand with Furstenberg.
In fact, the designer said she had always been "very impressed with the quality of the products they created". Roos added that, for her, the secret to success is to "believe in what you do" and to start as a "small business".
In addition, the designer said she decided to accept the project because she had always been "interested in the intimacy of the relationship between beauty products and women."
"It's a commitment to empowering women," says Diane. "Everything I do in this life has to do with inspiration from women, with my respect for them, and I want women to feel strong, beautiful and safe."
The first perfume from this line of beauty products will be released later this year, while other products are planned for early 2011.
Copyright © 2023 Europa Press. Está expresamente prohibida la redistribución y la redifusión de todo o parte de los contenidos de esta web sin su previo y expreso consentimiento.